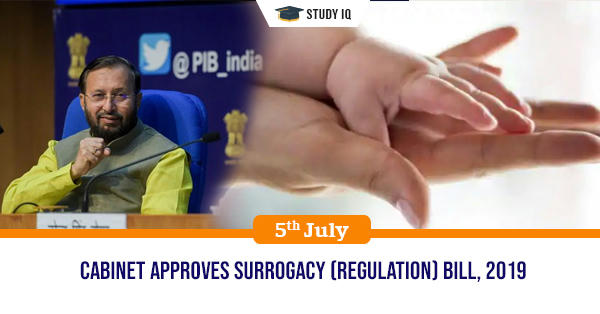 Cabinet approves Surrogacy (Regulation) Bill, 2019
Date: 05 July 2019
Tags: Bills & Laws
Union Cabinet has approved introduction of Surrogacy (Regulation) Bill, 2019 in the Parliament aimed at prohibiting commercial surrogacy in India. The Bill was passed by 16th Lok Sabha but had lapsed after it was not passed by Rajya Sabha.
Features of Bill
Objective:

It aims to ensure effective regulation of surrogacy, prohibit commercial surrogacy, and allow ethical surrogacy. It prohibits exploitation of surrogate mothers and children born through surrogacy

Features:

It prohibits commercial surrogacy, including sale and purchase of human embryos and gametes, but allows ethical altruistic surrogacy for needy couples on fulfillment of stipulated conditions.

Definition of surrogacy:

Practice in which woman undertakes to give birth to child for another couple and agrees to hand over the child to them after birth.

Altruistic surrogacy:

It allows 'altruistic surrogacy' i.e. wherein only medical expenses and insurance coverage is provided by couple to surrogate mother during pregnancy and no other monetary consideration.

Regulatory bodies:

It proposes to regulate surrogacy in India by establishing National Surrogacy Board at the central level and state surrogacy boards and appropriate authorities in the state and Union Territories.

Eligible couples for Surrogacy:

It allows surrogacy for infertile married (married for at least five years) Indian couples only. In this case, female must be between 23-50 years and male 26-55 years and they should not have any surviving child (biological, surrogate or adopted).

Surrogate Mother:

It allows only close relative of eligible certified couple to be surrogate mother, having been married, having child of her own and must be between 25 and 35 years. She can be surrogate mother only once in lifetime.

Exemptions:

It provides for surrogacy to only Indian citizens and thus bans foreigners, NRI and PIOs. It also bans homosexuals and single parents from surrogacy and also couple who already have children.

Custody and Punishment

: It also provides provision for custody of the child to be born which will be passed by a court of the Magistrate of the first class or above. It also contains provision of penalty and imprisonment if the person violated the law.
Background
India has emerged as surrogacy hub for couples from other countries. There have been reports concerning unethical practices, abandonment of children born out of surrogacy, exploitation of surrogate mothers and rackets involving intermediaries importing human embryos and gametes. The 228th report of Law Commission of India (LCI) had recommended prohibiting commercial surrogacy and allowing altruistic surrogacy by enacting suitable legislation to prevent exploitation of surrogate mothers and children born through surrogacy.