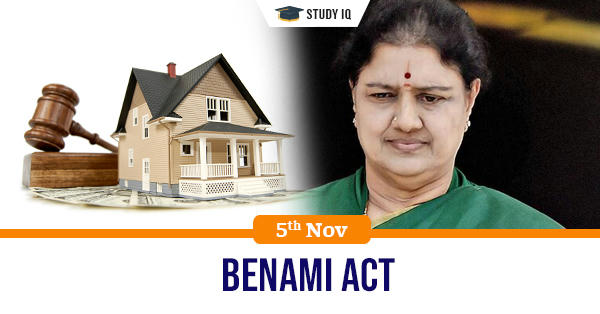 Benami act
Date: 05 November 2019
Tags: Bills & Laws
Issue
Illegal properties belonging to AIADMK ousted leader V.K.Sasikala have been provisionally attached under the provisions of the Benami Transactions (Prohibition) Act.
Background
According to the officials, after demonetisation, Sasikala allegedly procured the properties by using up ?1500 crore in demonetised notes under fictitious names.
Details
Benami Act, 1988
The act defines a 'benami' transaction as any transaction in which property is transferred to one person for consideration paid by another person.

The act bans all benami transactions and gives the government the right to recover property held benami without paying any compensation.
New ammendments
Under the old Benami law the government could only acquire the benami property for which a consideration had to be paid. However, under the new law once a property is declared as 'benami' it will vest with the government without payment of any consideration.

In addition to loss of property, persons who are guilty of the offence of a benami transaction would be liable for fine which may extend up to 25% of the fair market value of the property and rigorous imprisonment up to 7 years.

In India, considering the family tradition it is a common practice that property is often held in the name of the father/mother as a mark of respect but the funds are provided by the child. These types of transactions can now get covered under the new Benami law.
After amendment section 3 of Amended Benami Act reads as under :
"Section 3. Prohibition of benami transactions.—
No person shall enter into any benami transaction.

Whoever enters into any benami transaction shall be punishable with imprisonment for a term which may extend to three years or with fine or with both.

Whoever enters into any benami transaction on and after the date of commencement of the Benami Transactions (Prohibition) Amendment Act, 2016 (43 of 2016) shall, notwithstanding anything contained in sub-section (2), be punishable in accordance with the provisions contained in Chapter VII.