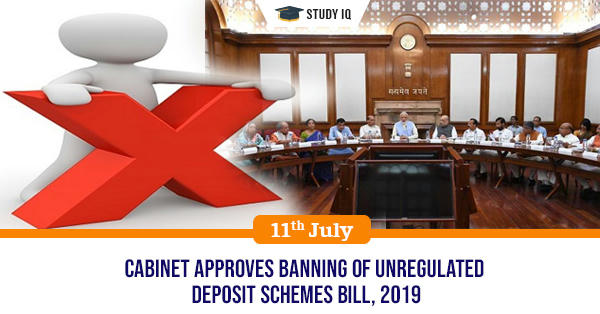 Cabinet approves Banning of Unregulated Deposit Schemes Bill, 2019
Date: 11 July 2019
Tags: Bills & Laws
Union Cabinet chaired by Prime Minister Narendra Modi has approved introduction of Unregulated Deposit Schemes Bill, 2019 in ensuing session of Parliament. It will replace the banning of Unregulated Deposit Schemes Ordinance, 2019 promulgated in February, 2019, which will otherwise cease to operate after six weeks after reassembly of Parliament.
Key Features of Bill
Banning clause:

It bans deposit takers from promoting, operating, issuing advertisements or accepting deposits in any unregulated deposit scheme. It bans unregulated deposit taking activities altogether, by making them offence.

Definition of Deposit Takers:

This bill defines it as all possible entities (including individuals) receiving or soliciting deposits, except specific entities such as those incorporated by legislation.

Definition of Deposit:

it has been defined in such manner that deposit-takers are restricted from concealing public deposits as receipts and not to hinder acceptance of money by an establishment in ordinary course of its business.

Defines three different types of offences:

Running of Unregulated Deposit Schemes, wrongful inducement in relation to Unregulated Deposit Schemes and fraudulent default in Regulated Deposit Schemes.

Competent Authority:

It will be designated by State Government to ensure repayment of deposits in event of default by a deposit taking establishment. It defines powers and functions of competent authority including the power to attach assets of a defaulting establishment;

Attachment of Properties:

It provides for attachment of properties or assets by the Competent Authority and subsequent realisation of assets for repayment to depositors. It provides clear-cut time lines for attachment of property and restitution to depositors.

Punishment and Repayments

: It prescribes severe punishment and heavy fines for offenders. It also provides adequate provisions for repayment of deposits in cases where such schemes manage to raise deposits illegally.It designates Courts to oversee repayment of depositors and to try offences mention under its ambit.

Best Practices:

It adopts best practices from State laws and entrusts primary responsibility of implementing provisions of legislation to State Governments.Chit funds are regulated by State Laws.

Online Database:

It calls for creation of online database for collection and sharing of information on deposit-taking activities in the country.
Impact
This comprehensive bill will help tackle menace of illicit deposit taking activities and prevent Ponzi-schemes in the country, which at present are exploiting regulatory gaps and lack of strict administrative measures to dupe poor and gullible people of their hard-earned savings. It will also help o tackle rising instances of fraudulent unregulated deposit scheme in various parts of the country which defrauded many people. The worst victims of these schemes were poor and financially illiterate and operations of such schemes had spread over many States.