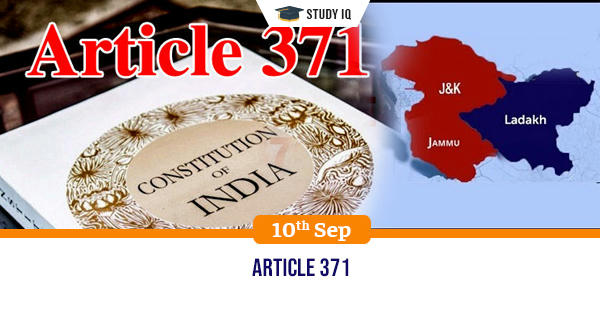 Article 371
Date: 10 September 2019
Tags: Bills & Laws
Issue
Union Home Minister Amit Shah assured the northeastern States that the Centre would never touch Article 371 of the Constitution that grants special provisions to the region.
Background
The centre's decision to scrap Article 370 raised question about validity of article 371, which grants special status to some states. The assurance given by the home minister is in this regard.
Details
Most of the States that have been accorded special provisions under Article 371 are in the Northeast and the special status aims to preserve their tribal culture.

Article 371 gives the power to the President of India to establish separate development boards for Vidarbha, Marathwada regions of Maharashtra and the rest of the State and Saurashtra, Kutch and rest of Gujarat.

Article 371(A) states that no act of Parliament shall apply to the State of Nagaland in respect of the religious or social practices of the Nagas, its customary law and procedure, administration of civil and criminal justice involving decisions according to Naga customary law and ownership and transfer of land and its resources.

Article 371(B) deals with special provision with respect to the State of Assam. The main objective of inserting Article 371B was to facilitate the creation of the sub-State 'Meghalaya'.

Article 371(C) deals with special provisions with respect to Manipur which became a State in 1972.

Article 371(G) that deals with special provisions with respect to Mizoram has similar nature.

Articles 371(F), 371(H) talk about special provisions with respect to States of Sikkim and Arunachal Pradesh, respectively.
Special provisions with respect to Andhra Pradesh, Karnataka, Goa are dealt in Articles 371(D) and 371(E), 371(J), 371(I) respectively.