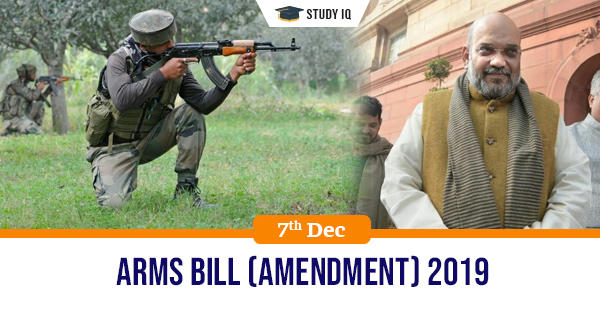 Arms Bill (Amendment) 2019
Date: 07 December 2019
Tags: Bills & Laws
Issue
Home Minister Amit Shah had introduced the Arms (Amendment) Bill, 2019 in Lok Sabha. The Bill seeks to amend the Arms Act, 1959 by reducing the number of firearms allowed per person from the current three, to just one.
Background
It also proposes new categories of offences and an increase in the penalty for certain offences. The Punjab government and groups in Rajasthan, including the Karni Seva, have opposed it.
Details
The Punjab government's position is that over 50 per cent of the state's farmers stay in remote villages and need arms to protect themselves.Villagers close to the Pakistan border are also insecure about infiltrators.

Many residents inherited vintage weapons from their ancestors, which they do not want to part with.

In Rajasthan, members of the Rajput community have opposed the proposed amendments and outfits such as the Shree Rashtriya Rajput Karni Sena (SRRKS) have threatened to protest.
Reasons for change in law
The government maintains the move will help reduce firearms-related crime. According to National Crime Record Bureau's 2016 report, in Punjab, 48 were murdered by use of firearms, out of which 22 were licensed firearms and 26 were illegal.

In Rajasthan, 23 victims were murdered by use of firearms and all murders were committed using illegal weapons.
Arms Bill (Amendment) 2019
The Bill seeks to amend the Arms Act, 1959. It seeks to decrease the number of licensed firearms allowed per person and increase penalties for certain offences under the Act. It also introduces new categories of offences.

The Bill reduces the number of permitted firearms from three to one. This includes licenses given on inheritance or heirloom basis. The Bill provides a time period of one year to deposit the excess firearms with the officer-in-charge of the nearest police station or with a licensed firearm dealer as specified.

The Act bans manufacture, sale, use, transfer, conversion, testing or proofing of firearms without license. It also prohibits shortening of firearm barrel or conversion of imitation firearms into firearms without a license.

The Act punishes acquisition, possession or carrying of prohibited ammunition without a license, with imprisonment between five and ten years, along with fine.

The Bill adds news offences. These include: (i) forcefully taking a firearm from police or armed forces, punishable with imprisonment between 10 years and life imprisonment, along with fine, (ii) using firearms in a celebratory gunfire which endangers human life or personal safety of others, punishable with imprisonment of up to two years, or fine of up to one lakh rupees, or both.