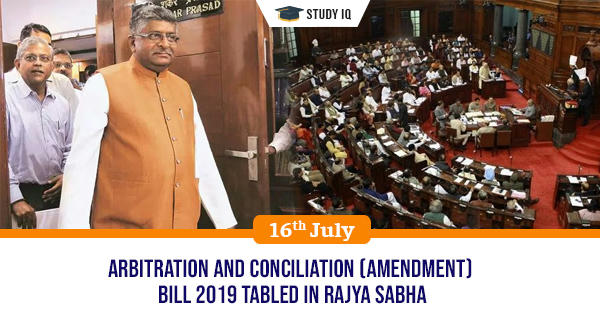 Arbitration and Conciliation (Amendment) Bill 2019 tabled in Rajya Sabha
Date: 16 July 2019
Tags: Bills & Laws
Union Law Minister Ravi Shankar Prasad tabled Arbitration and Conciliation (Amendment) Bill 2019 in Rajya Sabha. It seeks to amend the Arbitration and Conciliation Act, 1996. Its objective is to make India hub of domestic and global arbitration for settling commercial disputes. The previous version of Bill which was cleared by Lok Sabha in August 2018, but was not passed by Rajya Sabha and had lapsed after dissolution of 16th Lok Sabha .
Salient features of bill
It provides robust mechanism to deal with institutional disputes and ensures accountability of the arbitrator.

Arbitration Council of India (ACI):

It provides for establishing independent body called Arbitration Council of India (ACI) for the promotion of arbitration, mediation, conciliation and other alternative dispute redressal mechanisms. Thus, it will make arbitration process more friendly and cost-effective, and ensure timely disposal of cases.

Functions of ACI

: (i) frame policies for grading arbitral institutions and accrediting arbitrators, (ii) make policies for establishment, operation and maintenance of uniform professional standards for all alternate dispute redressal matters and (iii) maintain depository of arbitral awards (judgments) made in India and abroad.

Appointments of Arbitrators:

It allows appointment of arbitrators by "arbitral institutions" designated by the Supreme Court or a high court rather than Supreme Court or a high court themselves.

Completion of written submissions:

it requires that written claim and defence to claim in arbitration proceeding, should be completed within 6 months of the appointment of the arbitrators. Thus, it will timely resolve disputes.

Confidentiality of proceedings: A

ll details of arbitration proceedings will be kept confidential except for details of the arbitral award in certain circumstances. Disclosure of arbitral award will be made only where it is necessary for implementing or enforcing the award.