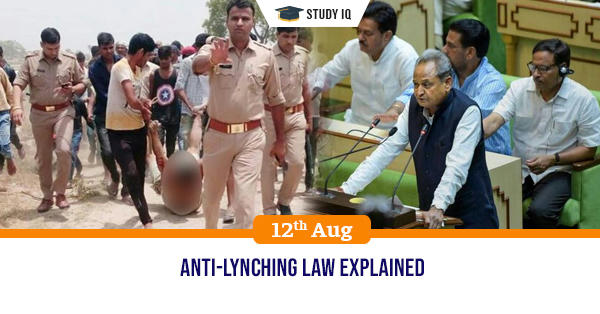 Anti-lynching law explained
Date: 12 August 2019
Tags: Bills & Laws
Issue
Rajasthan government has passed a new Law which prescribes punishment for perpetuators of lynching which leads to the death of victim.
Background
Owing to large scale incidents of hate crimes including lynching, the Rajasthan government decided to frame a new law that punishes individuals for lynching. The bill is known as 'The Rajasthan Protection from lynching Bill 2019'.
Highlights of the Bill
The bill provides for life imprisonment and a fine from Rs 1 lakh to 5 lakhs to those convicted in case of mob lynching leading to victim's death.

The bill proposes imprisonment up to 7 years and fine upto 1lakh in case of victim suffering simple injuries.

For hatching conspiracy of lynching or aiding, abeiting or attempting such as offence, the bill seeks to punish the offenders in the same manner as if he actually committed offence of lynching.

The bill also stipulates the provision of compensation to victims by state government as per the Rajasthan Victim compensation act.

It also binds the state government to take necessary provisions to rehabilitate the victims of mob lynching, suffering displacement from native places.
Drawbacks of the Bill
The law is been termed draconian in nature, subjective and ambiguous, gives immense and arbitrary powers to police and politicians to target citizens and communities.

The punishments prescribed to the crimes under the bill have already existed in Criminal Procedural code.

Use of terms such as offensive materials, physical, electronic means etc which provides a cover for officials to use it to target political opponents.

The ambiguous use of certain words as well; as changing definition of words like lynching and victim to create a larger spectrum to target opponents.