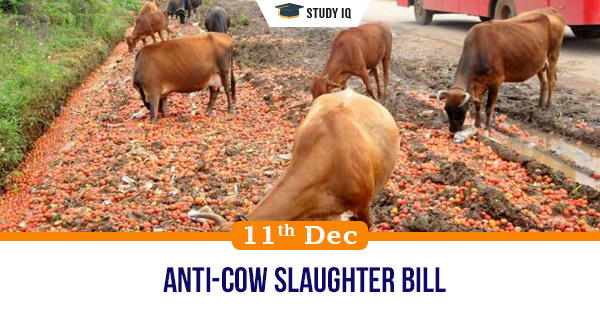 Anti-cow slaughter bill
Date: 11 December 2020
Tags: Bills & Laws
Issue
The contentious cow slaughter bill was passed by the Karnataka Assembly without any opposition.
Background
With the introduction of bill, Karnataka sets to emulate Gujarat and Uttar Pradesh, who have similar laws to prevent cattle slaughter.
Details
The bill seeks a complete ban on the slaughter of cows in the state and proposes stringent punishments to those held for smuggling, illegal transportation, atrocities on cows, and slaughtering them.

Some of the other important provisions of the bill include setting up of special courts for the speedy trial of the accused, setting up goshala or cattle sheds for the livestock, imparting more power to local police for conducting random checks, to name a few.

Illegal selling, transportation or culling of cows (has been) made punishable. If a cow has contracted a disease which can spread to other cattle, then it can be culled/slaughtered.

A police officer above the rank of sub-inspector, if he has reason to believe that an offence under this Act has been committed, can inspect any premises and conduct a search.

While 'beef' is defined as flesh of cattle in any form, the word 'cattle' is defined as cow, calf of cow and bull, bullock, and he/she buffalo below age of 13 years.

Violators can attract three to seven years of imprisonment. While penalties between 50,000 and 5 lakhs can be imposed for first offence, it can increase between 1 lakh and 10 lakhs.
Earlier provisions
Karnataka already had an anti-cattle slaughter bill – Karnataka Prevention of Cow Slaughter and Cattle Preservation Act, 1964. The provisions of this were restricted to the slaughter of cows, calves, and she-buffaloes.

The law allowed for the slaughter of bulls, bullocks and buffaloes, provided they were aged above twelve, or were no longer fit for breeding or did not give milk. The law also required certification from the competent authority for slaughter.

The maximum imprisonment for violating the provisions of the 1964 Act was six months and a Rs 1,000 fine.