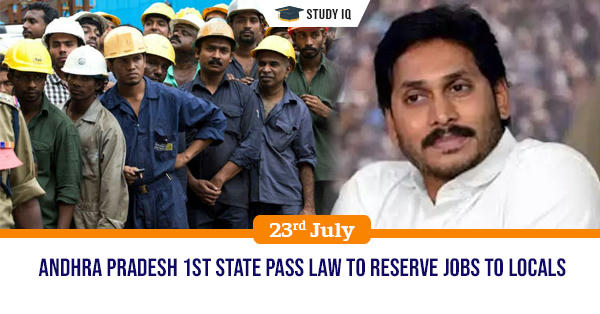 Andhra Pradesh 1st state pass law to reserve jobs to locals
Date: 23 July 2019
Tags: Bills & Laws
Andhra Pradesh legislative assembly passed Andhra Pradesh Employment of Local Candidates in Industries/Factories Bill, 2019. This bill reserves 75% jobs for locals in industrial units, factories, joint ventures and projects set up under public-private partnership mode. With this, Andhra Pradesh became the first state to pass law reserve jobs for local youth in private sector. The Bill will now go to Governor for assent, which he may reserve for Presidential assent to come into force.
Key features of Bill
Reservation for locals:

It provides for reservation of 75

%

to locals in jobs in all private industrial units and factories, irrespective of whether companies getting financial or any other help from government.

Skill Training to meet local demand:

If companies fail to find locals with necessary skills, then it mandates them to train locals in association with state government and hire them.

Enforcement period:

Companies will have to comply with these provisions within three years of the commencement of this Act.

Exemptions:

This bill exempts only those units listed in the first schedule of the Factories Act from its ambit but that too after the government approval. These mostly include hazardous industries like petroleum, pharmaceuticals, coal, fertilisers and cement, among others.
Background
In recent times many states have repeatedly spoken about reserving big chunk of private jobs for locals, but none has implemented it as yet. Madhya Pradesh Government in July 2019 had announced to bring a law to reserve 70% of private sector jobs for locals. The same demand has existed in Karnataka, Gujarat and Maharashtra as well.