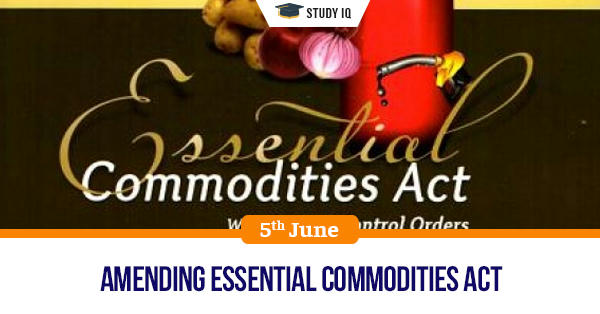 Amending Essential commodities Act
Date: 05 June 2020
Tags: Bills & Laws
Issue
The Union Cabinet has approved an ordinance to amend The Essential Commodities Act, 1955, to deregulate commodities such as cereals, pulses, oilseeds, edible oils, onion and potatoes.
Background
The ordinance has introduced a new subsection (1A) in Section 3 of The Essential Commodities Act, 1955. The ordinance, once assented by the President of India and notified in the gazette, will become law.
Details
The amended law provides a mechanism for the "regulation" of agricultural foodstuffs, namely cereals, pulses, oilseeds, edible oils, potato, and supplies under extraordinary circumstances, which include extraordinary price rise, war, famine, and natural calamity of a severe nature.

There is no specific definition of essential commodities in The EC Act. Section 2(A) of the act states that an "essential commodity" means a commodity specified in the "Schedule" of this Act.

The Act gives powers to the central government to add or remove a commodity in the "Schedule." The Centre, if it is satisfied that it is necessary to do so in public interest, can notify an item as essential, in consultation with state governments.

At present, the "Schedule" contains 9 commodities — drugs; fertilisers, whether inorganic, organic or mixed; foodstuffs, including edible oils; hank yarn made wholly from cotton; petroleum and petroleum products; raw jute and jute textiles; seeds of food-crops and seeds of fruits and vegetables, seeds of cattle fodder, jute seed, cotton seed; face masks; and hand sanitizers.

By declaring a commodity as essential, the government can control the production, supply, and distribution of that commodity, and impose a stock limit.

Under the amended EC Act, agri-food stuffs can only be regulated under extraordinary circumstances such as war, famine, extraordinary price rise, and natural calamity.

The EC Act was legislated at a time when the country was facing scarcity of foodstuffs due to persistent abysmal levels of foodgrain production. The country was dependent on imports and assistance to feed the population.

The amendments will remove commodities such as cereals, pulses, oilseeds, edible oils, onion and potatoes from the list of regulated essential commodities. The move is expected to attract private investment in the value chain of these commodities.

While the purpose of the Act was originally to protect the interests of consumers by checking illegal trade practices such as hoarding, it has now become detrimental for investment in the agriculture sector in general, and in post-harvesting activities in particular.

The private sector has so far hesitated investing in cold chains and storage facilities for perishable items as most of these commodities are under the ambit of the EC Act, and can attract sudden stock limits. But now the situation can change.