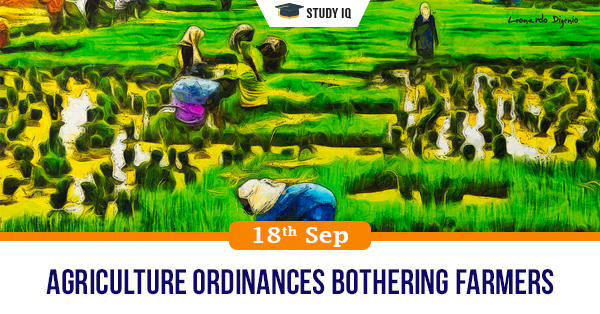 Agriculture ordinances bothering farmers
Date: 18 September 2020
Tags: Bills & Laws
Issue
Farmers in Punjab and Haryana have been protesting against three ordinances promulgated by the Centre on June 5.
Background
After the Monsoon Session of Parliament began this week, the government has introduced three Bills to replace these ordinances.
Details
They are called The Farmers Produce Trade and Commerce (Promotion and Facilitation) Ordinance, 2020; The Farmers (Empowerment and Protection) Agreement on Price Assurance and Farm Services Ordinance, 2020; and The Essential Commodities (Amendment) Ordinance, 2020. It is the Bill replacing the third that has been passed in Lok Sabha.

While farmers are protesting against all three ordinances, their objections are mostly against the provisions of the first.

The Farmers Produce Trade and Commerce (Promotion and Facilitation) Ordinance, 2020 defines "trade area" as any area or location, place of production, collection and aggregation including (a) farm gates; (b) factory premises; (c) warehouses; (d) silos; (e) cold storages; or (f) any other structures or places, from where trade of farmers' produce may be undertaken in the territory of India.

The definition does not, however, include "the premises, enclosures and structures constituting (i) physical boundaries of principal market yards, sub-market yards and market sub-yards managed and run by the market committees formed under each state APMC (Agricultural Produce Market Committee) Act".

It also excludes "private market yards, private market sub-yards, direct marketing collection centres, and private farmer-consumer market yards managed by persons holding licences or any warehouses, silos, cold storages or other structures notified as markets or deemed markets under each State APMC Act in force in India".

In effect, existing mandis established under APMC Acts have been excluded from the definition of trade area under the new legislation.

The protesters say this provision will confine APMC mandis to their physical boundaries and give a free hand to big corporate buyers.

The first ordinance defines a "trader" as "a person who buys farmers' produce by way of inter-State trade or intra-State trade or a combination thereof, either for self or on behalf of one or more persons for the purpose of wholesale trade, retail, end-use, value addition, processing, manufacturing, export, consumption or for such other purpose".

A trader can operate in both an APMC mandi and a trade area. However, for trading in the mandi, the trader would require a licence/registration as provided for in the State APMC Act.

Section 6 states that "no market fee or cess or levy, by whatever name called, under any State APMC Act or any other State law, shall be levied on any farmer or trader or electronic trading and transaction platform for trade and commerce in scheduled farmers' produces in a trade area".

The protesters say that the provision on dispute resolution under Section 8 does not sufficiently safeguard farmers' interests.

It provides that in case of a dispute arising out of a transaction between the farmer and a trader, the parties may seek a mutually acceptable solution through conciliation by filing an application to the Sub-Divisional Magistrate, who shall refer such dispute to a Conciliation Board to be appointed by him for facilitating the binding settlement of the dispute.