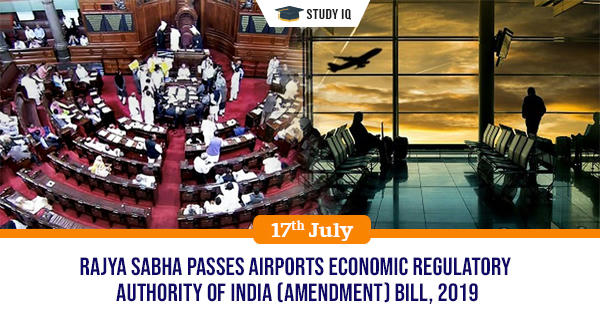 Rajya Sabha passes Airports Economic Regulatory Authority of India (Amendment) Bill, 2019
Date: 17 July 2019
Tags: Bills & Laws
Rajya Sabha passed Airports Economic Regulatory Authority of India (Amendment) Bill, 2019 with aim to bid out any new airport from pre-determined tariff structure. It is yet to be passed by Lok Sabha. The bill seeks to amend the Airports Economic Regulatory Authority of India Act, 2008.
Features of Bill
Definition of major airports:

It amends definition of "major airport" as any airport which has annual passenger traffic of over 35 lakh. Currently, major airports with annual capacity to handle 15 lakh passengers come under purview of AERA.

Tariff determination:

AERA will not determine: (i) tariff, (ii) tariff structures, or (iii) development fees, in cases where these amounts were part of bid document on basis of which airport operations were awarded.
Airports Economic Regulatory Authority of India (AERA)
It is an independent economic regulator for protection of interests of airports, airlines and passengers. It is statutory body established under Airports Economic Regulatory Authority of India Act, 2008.

Functions:

It regulates tariffs and other charges for aeronautical services provided at civilian airports with annual traffic above 15 lakh passengers. It also monitors performance standard of services across these airports.

It is responsible for determining:

(i) tariff for aeronautical services at different airports every 5 years, (ii) development fees of major airports, and (iii) passengers service fee. It can also call for necessary information to determine tariffs and perform any other tariff-related functions, including amending tariffs if necessary in the interim periods.
Note: Currently 16 major airports (with capacity of 15 lakh passengers) are under jurisdiction of AERA and all the other airports which are not major airports are under Union Ministry of Civil Aviation.