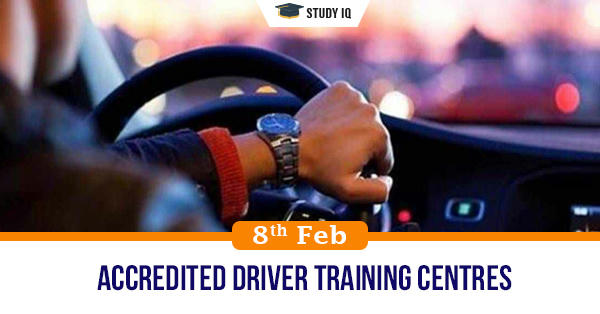 Accredited Driver Training Centres
Date: 08 February 2021
Tags: Bills & Laws
Issue
The Ministry of Road Transport and Highways has come out with proposed rules that will enable the setting up of Accredited Driver Training Centres across the country.
Background
There will be no need to navigate through the maze of bureaucracy at the local road transport authority office or perform a driving test before an official.
Details
Successful, time-bound completion of training in these centres will be enough to secure a license from the state transport authorities.

The government has sought to amend the Central Motor Vehicles Rules, to enable existence of these training centres.

The government has invited comments/objections, if any, from the public for the next 30 days on the draft notification. After that the final version will be notified and be part of the official rules.
Update to Central Motor Vehicle Rules
Rule 14 of the Central Motor Vehicle Rules prescribes what an application for a driver's license shall accompany. This includes things like necessary documents, a learner's license, and even a certificate from an authorized driving training school.

But this is not enough to secure an actual license as the rule now is that the candidate must then perform a driving test in the presence of a designated official of the authority.

Now, to make this certificate enough to secure a license without performing a test at the licensing authority's office, the proposed rules insert certain changes.

In the draft notification, the government now seeks to include that anyone who holds a certificate from an Accredited Driver Training Centre, shall be exempted from performing a driving test.
Accredited Driver Training Centres
Anyone can set up these training centres providing they fulfil the accreditation criteria laid down by the Centre, which includes an accreditation fee of Rs 50,000.

The State Transport Authority or designated official of authorised agency notified by the Central Government will process the applications for accreditation to the driver training centres and grant a license to run such centre for five years.

To get a license, a candidate will have to go through 29 hours of training in four weeks, in which 21 hours are practical training including four hours in simulator, virtually driving through rain, fog, night etc.

For medium to heavy vehicles, the training is for 29 hours spread over 38 weeks in which 17 hours are in theory classes and 21 hours are in practical including three hours on a simulator.

Theories including everything related to driving including road rage, etiquettes of good driving habits, and the like. Practical includes on track as well as on road driving sessions.
Features of the training centre
The training centres should have infrastructure of at least 2 acre in plains or 1 acre in hilly districts, besides adequate parking area for the vehicles meant to be used for training.

They should have simulators for both light motor vehicle driving as well as commercial, heavy motor vehicle driving.

They should also have two class-rooms with teaching aids like computers and Multimedia Projector for holding theory classes/lessons on traffic rules, driving procedures, vehicle mechanism, public relations, and first aid. Online tests and evaluation are a must.

There has to be a driving track to provide practice to the trainees for manoeuvring, parking, reverse driving, driving on slopes.

The centres should also have biometric attendance systems so that no candidate can fudge attendance in training sessions.

The centres are required to employ qualified instructors, have the facility for e-payment, real time evaluation, online evaluation process, and adequate staff resources in each category.

The criteria for instructors is a minimum of 12th pass, at least five years of driving experience, and a course in motor mechanics or any other higher qualification in mechanical engineering.

The centres will be subject to a yearly audit by authorities and also surprise audits. They will have to maintain an electronic record of everything to show that the activities are as per the norms.
Need for change
India has a shortage of over 2 million drivers especially in the transport industry. Studies link this shortage with driver fatigue and errors in driving that cause road crashes and fatalities.

The government also did away with any minimum educational criterion for applying for a commercial driving license citing that driving is about possessing a skill and not really about educational qualification.

The move also brings India on a par with other developed countries which have linked driver training with issuance of licenses.