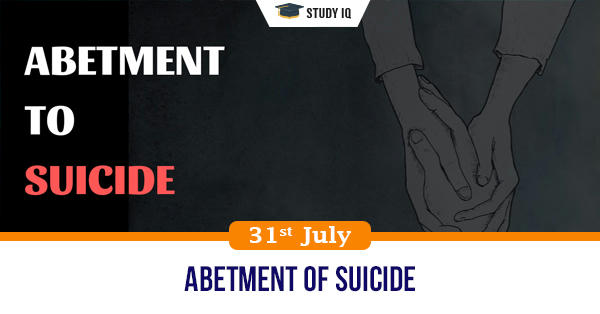 Abetment of suicide
Date: 31 July 2020
Tags: Bills & Laws
Issue
The controversy surrounding the death of actor Sushant Singh Rajput took a new turn as the actor's father filed an FIR against actor Rhea Chakraborty and five others, for abetment of suicide.
Background
There are two primary ingredients of the crime of abetment of suicide. First is a suicidal death. The second ingredient is the intention of the accused to abet such suicide.
Details
The Indian Penal Code, 1860 makes abetment of suicide a punishable offence. Section 306 of the IPC prescribes either a jail term of up to ten years or a fine or both.

The IPC also has a separate chapter on abetment and describes who is an abettor under Section 108. Abetment is defined as including instigating, engaging in a conspiracy or assisting in committing the offence.

Abetment of suicide is a serious offence that is tried in a Sessions court and is cognizable, non-bailable and non-compoundable.

A cognizable offence is one in which a police officer can make an arrest without a warrant from a court. A non-bailable offence means bail is granted to the accused at the discretion of the court, and not as a matter of right.

A non-compoundable offence is one in which the case cannot be withdrawn by the complainant even when the complainant and the accused have reached a compromise.

The court cannot allow withdrawal of a case involving a non-compoundable offence, and every such complaint is necessarily followed by a trial where evidence is held against the accused.

Despite the intention of the accused to drive a person to commit suicide, abetment of suicide is not the same as murder. Although in both cases, causing the death of another person is a common factor, the two are distinct offences.

The suicide must also be a direct consequence of the instigation and cannot be a mere coincidence or very remote to the committing of suicide.

If the deceased person is found to be very sensitive compared to a reasonable person, the court has said that the charge of abetment to suicide would weaken.