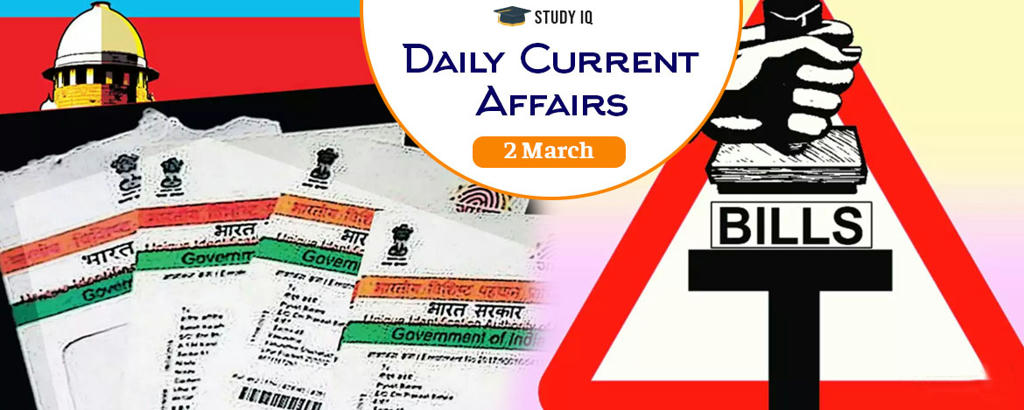 Cabinet approves Aadhaar and Other Laws (Amendment) Ordinance, 2019
Date: 02 March 2019
Tags: Bills & Laws
Union Cabinet has approved promulgation of Aadhaar and Other Laws (Amendment) Ordinance, 2019 to allow voluntary use of Aadhaar as identity proof for opening new bank accounts and procuring mobile phone connection.
Why ordinance?
The ordinance amends Aadhaar Act 2016, Prevention of Money Laundering Act 2005 and Indian Telegraph Act, 1885. It was necessitated as Bill proposing same amendments was passed by Lok Sabha on during Budget session in January 2019 but was pending in the Rajya Sabha.

The Supreme Court in its judgement 2018 Aadhar case had upheld constitutional validity of Aadhaar However, it struck and read down few sections of Aadhaar Act and Regulations. It also had given several other directions in interest of protecting fundamental rights to privacy.

Consequently, Government in pursuance of Supreme Court directives and report of Justice B.N.Srikrishna (Retd.) committee on data protection had proposed to amend these three laws to ensure that personal data of Aadhaar holder remains protected against any misuse and Aadhaar scheme remains in conformity with the Constitution.
Salient Features of this ordinance
It provides for voluntary use of twelve-digit Aadhaar number in physical or electronic form by authentication or offline verification with consent of Aadhaar number holder.

It provides for use of Aadhaar number and its alternative virtual identity to conceal actual Aadhaar number of an individual.

It gives option to children who are Aadhaar number holders to cancel their Aadhaar number on attaining the age of 18 years.

It permits entities to perform authentication only when they are compliant with standards of privacy and security specified by Authority.

It clearly mentions that authentication is permitted under any law made by Parliament or is prescribed to be in interest of State by Central Government.

Allows the use of Aadhaar number for authentication on voluntary basis as acceptable KYC document under the Telegraph Act, 1885 and the Prevention of Money-laundering Act, 2002.

It prevents denial of services for refusing to or being unable to undergo authentication. It deletes section 57 of Aadhaar Act related to use of Aadhaar by private entities;

It provides for establishment of Unique Identification Authority of India Fund. It provides for civil penalties, its adjudication, appeal in regard to violations of Aadhaar Act.
Significance of this ordinance
It enables UIDAI to have more robust mechanism to serve public interest and restrain misuse of Aadhaar. It ensures that no individual will be compelled to provide proof of possession of Aadhaar number of undergo authentication for purpose