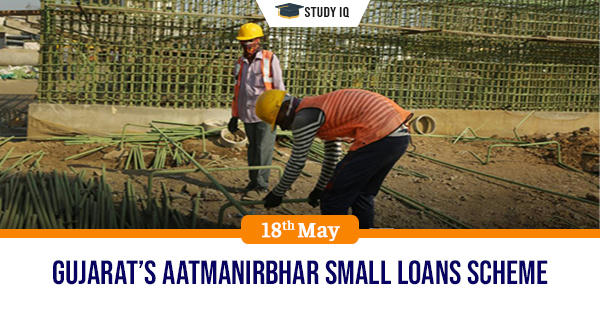 Gujarat's Aatmanirbhar small loans scheme
Date: 18 May 2020
Tags: Banking & Financial Sector
Issue
Gujarat government has announced a "Aatmanirbhar Gujarat Sahay Yojana" that offers a loan of up to Rs 1 lakh for a period of three years to small entrepreneurs and self-employed workers such as electricians, plumbers, and carpenters.
Background
The scheme also aims to cover domestic helps, vegetable vendors, construction workers, and others who have lost their incomes in the Covid-19 lockdown.
Details
Applicants to the scheme will need guarantors to help push their case before credit societies and urban and district cooperative banks that will hand out Rs 5,000 crore worth of collateral-free loans. They will also need to be aware of the penalties in case of a default.

The state government will bear the cost of an additional 6 per cent interest on the "unsecured loans", which will have a moratorium of six months during which the applicant will not have to pay either the interest or the principal amount. The loans will, however, need to be paid back in equal instalments over the following 30 months.

The scheme is applicable to any conceivable business, provided the person falls under the category of a small trader, shopkeeper or self employed workmen. It is meant to arm them with working capital after their business was stalled for two or three months.

According to an illustrative list, rickshaw drivers, tractor repairers, plumbers, electricians, masons, fabricators, housemaids, dhobis, handcart owners, pastiwalas, painters, tea kiosk owners, sweetshop owners, cooks, tailors, cobblers, etc. can apply for a loan.

The disbursements of the loans have been left to the banks, which can accept or reject an application depending on the repayment capabilities of the applicant.

The application form asks for the "purpose of loan", apart from family income and monthly expenses, and details of existing loans. Applicants have to also provide "two guarantors" along with the details of their incomes.

No property needs to be mortgaged to avail the loan. However, the banks will make their assessment, and fill in the applicant's KYC (Know Your Customer) details.

The loan becomes an NPA in case of default in repayment. The applicant must submit an affidavit agreeing to pay 8 per cent interest on the outstanding balance immediately if any detail in the application is found to be incorrect.

Apart from the 2 per cent interest that an applicant pays on the loan, the Gujarat government will reimburse the 6 per cent interest on a quarterly basis (generally it is done annually) to the lending agencies. The government estimates the payout to the lending agencies to be over Rs 400 crore during this three-year period.