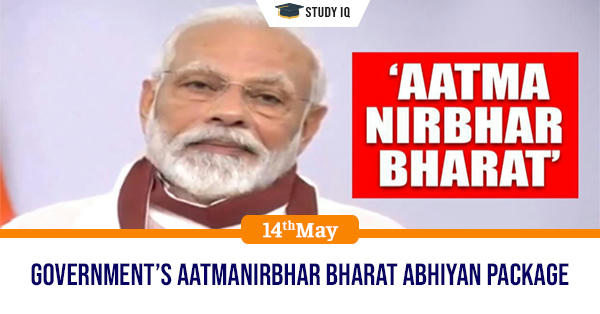 Government's Aatmanirbhar Bharat Abhiyan package
Date: 14 May 2020
Tags: Banking & Financial Sector
Issue
Finance minister Nirmala Sitharaman unveiled the details of Aatmanirbhar Bharat Abhiyan package that aims to revive economy by providing financial impetus.
Background
The Prime Minister had announced the Aatmanirbhar Bharat package that will focus on making India self-reliant during his national address.

Details
In a bid to provide support to the struggling MSME sector, the government announced collateral-free automatic loans worth Rs 3 lakh crore.

It also changed the definition of MSMEs by revising upwards the investment limit and bringing in an additional criterion of turnover size of the company. Further, it said it would no longer allow global tenders for government procurement of up to Rs 200 crore.

It aims at Rs 50,000 crore equity infusion through Mother fund-Daughter fund for MSMEs that are viable but need handholding. A fund of funds with corpus of Rs 10,000 crore will be set up to help these units expand capacity and help them list on Markets if they choose.
For NBFCs/HFCs/MFI, Rs 30,000 crore special liquidity scheme for investing in investment grade debt paper of NBFCs, HFCs and MFIs. These NBFCs are those that are also funding MSMEs. These will be fully guaranteed by government of India.

For taxpayers, the government reduced the rates of Tax Deduction at Source (TDS) and Tax Collection at Source (TCS) by 25 per cent, with effect from May 14, 2020 to March 21, 2021.

It has extended the date for filing income tax returns to November 30, 2020 and tax audit to October 31, 2020. The EPF contribution was also reduced for businesses and workers for three months to 10 per cent from 12 per cent.