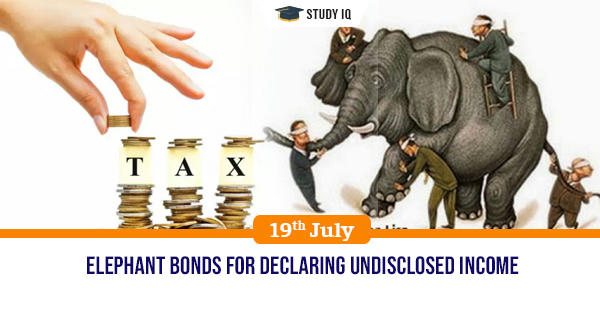 Elephant bonds for declaring undisclosed income
Date: 19 July 2019
Tags: Infrastructure, Banking & Financial Sector
Government may soon launch Elephant Bonds as part of new amnesty scheme to the income tax defaulters in the country for declaring undisclosed income. This was suggested by high-level government-appointed committee on trade and industry headed by economist Dr. Surjit S. Bhalla. The recommendation of the advisory group regarding undisclosed income seems to be based on the fact that black money exists in domestic sector and it should be utilised in a productive manner.
What are the elephant bonds?
They are proposed sovereign bonds (debt instruments) to be issued for period of 25 years in which people declaring undisclosed income will be bound to invest 50 per cent, similar to an amnesty scheme. These funds will be utilised only for infrastructure projects, both new and old. Thus, these bonds will serve as specialised security product providing funds towards Long Term Infrastructure.
Significance of elephant bonds
Such bonds are necessary part of Central Government's carrot and stick policy. This will allow past tax defaulters to join mainstream without attracting penalties. This will also provide conducive way to increase tax revenue along with increasing the number of taxpayers and beneficiaries in tax base who had not declared their assets previously. It will improve funding for long term infrastructure projects which are critical part in increasing economic growth.
Previous Amnesty schemes
These schemes were aimed at encouraging people to avoid prosecution and declare black money by paying penalty only.
First:

It was introduced as part of Black Money (Undisclosed Foreign Income And Assets) And Imposition of Tax Rules, 2015. Under it, window was provided to declare income and assets parked in foreign countries between July 2015 to September 2015.

Income Declaration Scheme (IDS):

It was second such major initiative launched in May 2016. Under it, people with undisclosed income were given time between June 2016, to September 2016, to declare their income with a tax including penalty of 45% of the total undisclosed income.

Demonisation:

It was announced in November 2016. Government had demonetised high currency notes to fight black money.

Pradhan Mantri Garib Kalyan Yojana

under which the government asked people with black money to pay 50% fine of the undisclosed income and deposit an additional 25% in government schemes which would be refunded without interest after four years. This scheme also expired on March 31, 2017.