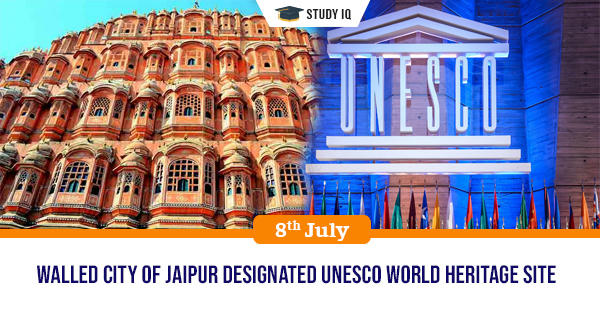 Walled City of Jaipur designated UNESCO World Heritage Site
Date: 08 July 2019
Tags: Architecture
The Walled City of Jaipur in Rajasthan, known for its iconic architectural legacy and vibrant culture was added into UNESCO World Heritage Site list (Cultural). The announcement was made after 43rd Session of the UNESCO World Heritage Committee (WHC), underway at Baku, Azerbaijan. It is overall 38th world heritage site from India to get listed, others include 30 cultural sites, 7 natural sites and 1 mixed site.
Walled city of Jaipur
The historic city was founded in 1727 AD under patronage of Sawai Jai Singh II. Currently, it serves as capital city of the culturally-rich state of Rajasthan. It is exceptional example of a late medieval trade town in South Asia and defined new concepts for thriving trade and commercial hub. In addition, it is associated with living traditions in the form of crafts that have national and international recognition
About UNESCO world heritage site
These are sites selected by UNESCO, having cultural, historical, natural, scientific or other form of significance and is legally protected by international treaties.

This list is maintained by UNESCO World Heritage Committee administered international World Heritage Programme.

The committee comprises of 21 UNESCO member states which are elected by UN General Assembly (UNGA) and meet annually.

Each World Heritage Site included in the list remains part of legal territory of country where it is located. But its inclusion in the list is in interest of international community to preserve each site.

To date, 1,092 sites in 167 countries have been inscribed on the World Heritage List. Italy with 50 sites is home to largest number of World Heritage Sites.