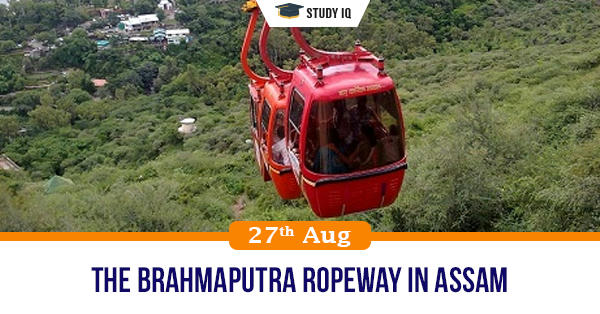 The Brahmaputra ropeway in Assam
Date: 27 August 2020
Tags: Architecture
Issue
The Assam government has inaugurated a 1.8-km ropeway across the Brahmaputra river, and described it as India's longest river ropeway.
Background
The two-km long ropeway is being considered as an engineering marvel as this is for the first time that the ropeway towers were made deep inside the bed of a major river in the country.
Details
Thousands of people commute every day between the capital city of Guwahati and the town of North Guwahati, where IIT Guwahati is located.

The ropeway cuts travel time between the two banks to 8 minutes. The current travel options between the two banks are by ferry (30 minutes or more, depending on current and season) or by road through a bridge that usually takes over an hour in the traffic.

Apart from substantially reducing travel time, the ropeway will provide a breathtaking view of the mighty Brahmaputra and promote tourism in the State.

Connecting Kachari Ghat (Guwahati) to Dol Govinda Temple on the northern bank, the ropeway passes the famous Umananda temple on a small island.

The ropeway comprises two cabins — each with a capacity of 30 passengers plus one operator. The project was built at a cost of Rs 56 crore.

It was scheduled to be commissioned by May 2011, but work was stalled after the Archaeological Survey of India or ASI in February, 2011 disallowed permission for the tilt rectification of well foundation number two from Urvashi Island.