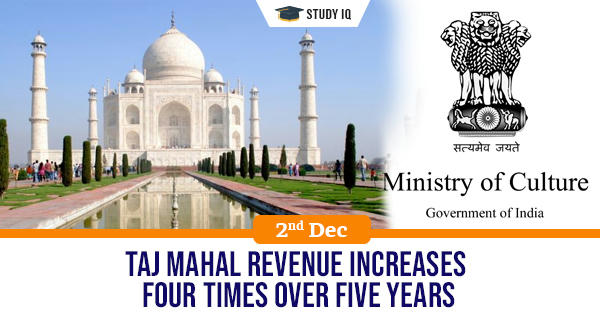 Taj Mahal revenue increases four times over five years
Date: 02 December 2019
Tags: Architecture
Issue
The revenue earned from the Taj Mahal in Agra went up around four times over five years ending in 2018-2019, according to data given by the Union Ministry of Culture.
Background
Taj Mahal is one of the most globally recognised symbol of Indian culture and heritage. It is one of the seven wonders of the world and attracts large number of tourists including foreigners.
Details
Taj Mahal is an Islamic mausoleum on the south bank of the Yamuna river in the Indian city of Agra.

It was commissioned in 1632 by the Mughal emperor Shah Jahan (reigned from 1628 to 1658) to house the tomb of his favourite wife, Mumtaz Mahal; it also houses the tomb of Shah Jahan himself.

The Taj Mahal is a designated UNESCO World Heritage Site.
Architecture
The Taj Mahal incorporates and expands on design traditions of Persian and earlier Mughal architecture.

Humayun's Tomb inspired the Charbagh gardens and hasht-behesht (architecture) plan of the site.

While earlier Mughal buildings were primarily constructed of red sandstone, Shah Jahan promoted the use of white marble inlaid with semi-precious stones.

The marble has been polished to emphasise the exquisite detailing of the carvings. The dado frames and archway spandrels have been decorated with pietra dura inlays of highly stylised, almost geometric vines, flowers and fruits.

Since Islam prohibits anthropometric designs on structure, fine decorations in the form of Calligraphy and vegetative decorations have been used.
Pietra dura
Pietra dura is a term for the inlay technique of using cut and fitted, highly polished colored stones to create images.
Char Bagh
Charbagh or Chahar Bagh is a Persian and Islamic quadrilateral garden layout based on the four gardens of Paradise mentioned in the Qur'an. The quadrilateral garden is divided by walkways or flowing water into four smaller parts.