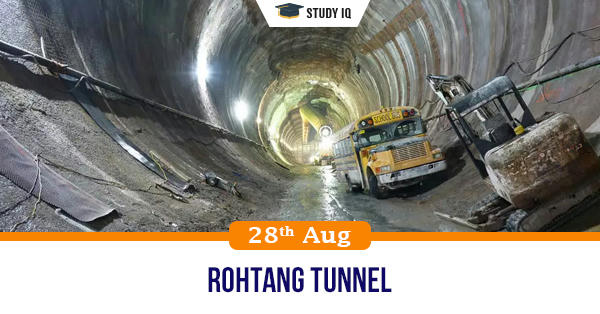 Rohtang tunnel
Date: 28 August 2020
Tags: Architecture
Issue
The Atal Tunnel at Rohtang, near Manali, is almost complete with finishing touches being given to it before Prime Minister Narendra Modi inaugurates it.
Background
The 9-km-long tunnel under the Pir Panjal range will be the world's longest highway tunnel above the altitude of 10,000 feet (3000 metres).
Details
The project was scheduled to be completed by February 2015 but it got delayed due to unexpected problems. It was originally designed to be 8.8 km long but GPS readings taken on completion show it to be 9 km long.

The construction teams faced fast flowing water from Seri Nullah, which flowed on top of the tunnel route and impeded construction efforts.

The sheer volume of water prevented construction for several months while project engineers grappled with a way to tackle the problem. The rock structures faced by the engineers too caused impediments.

Cutting through the Pir Panjal range, the tunnel will reduce the distance between Manali and Leh by 46 km.

The Rohtang Pass is located at a height of 13,050 feet, and a journey from Manali Valley to Lahaul and Spiti Valley, which normally takes around five hours to negotiate, would now be completed in little over ten minutes.

While the tunnel will be a boon to the residents of the Lahaul and Spiti Valley who remain cut off from the rest of the country in winters for nearly six months due to heavy snowfall, the tunnel will provide almost all-weather connectivity to the troops stationed in Ladakh.

A 13.2 km long tunnel will have to be built to negotiate the 16,040 feet high Baralacha pass and another 14.78 km long tunnel will be required at the Lachung La pass at 16,800 feet. A third 7.32 km long tunnel will be required at Tanglang La pass at 17,480 feet.

Other features include an emergency escape tunnel under the main tunnel. This would provide an emergency exit in case of any untoward incident which may render the main tunnel unusable.

The tunnel also provides a telephone every 150 metres, fire hydrant every 60 metres, emergency exit every 500 metres, turning cavern every 2.2 km, air quality monitoring every one km, broadcasting system, and automatic incident detection system with CCTV cameras every 250 metres.