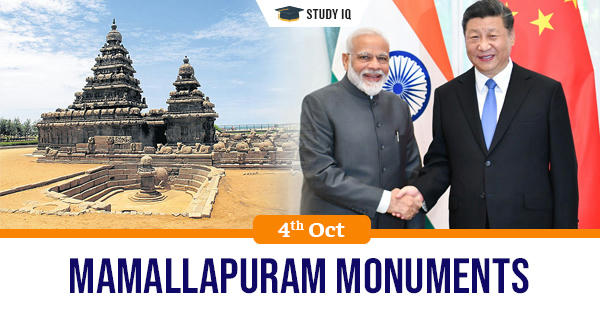 Mamallapuram monuments
Date: 04 October 2019
Tags: Architecture
Issue
The ancient port town of Mamallapuram is being prepared for a scheduled visit of Prime Minister Narendra Modi and Chinese President Xi Jinping during a two-day India-China informal summit.
Background
Mamallapuram near Chennai is a crucial town connecting India with Southeast Asia including China from the Pallava period. There have been proofs that indicate greater ties between the two nations from ancient times.
Details
The dignitaries are expected to visit some of the monuments such as Arjuna Penance, Krishna's Butter Ball, Five Rathas and Shore Temple.
Significance of summit
It is important for India and China to strengthen their ties when there are perceptions that India is getting closer to US.

Besides, the growing footprint of China in South Asia is not only in trade but also seemingly in politics in the region and this context also makes this summit significant.
Mamallapuram
Mamallapuram, also known as Seven Pagodas or Mahabalipuram was an ancient historic town and a bustling seaport in the 1st millennium CE.

It now hosts a group of Hindu monuments declared as UNESCO world heritage site, it is one of the most visited towns in South India.

Rathas (temples in the form of chariots), Mandapas (cave sanctuaries), giant open-air rock reliefs and the Shore Temple dedicated to Shiva, Durga, Vishnu, Krishna etc are the major monuments.
Some important structures
Thirukadalmallai- the temple dedicated to Lord Vishnu. It was also built by Pallava King in order to safeguard the sculptures from the ocean.

Descent of the Ganges or Arjuna's Penance – a giant open-air rock relief

Varaha Cave Temple – a small rock-cut temple dating back to the 7th century.

The Shore Temple – a structural temple along the Bay of Bengal with the entrance from the western side away from the sea. Recent excavations have revealed new structures here.

Pancha Rathas (Five Chariots) – five monolithic pyramidal structures named after the Pandavas (Arjuna, Bhima, Yudhishtra, Nakula and Sahadeva) and Draupadi. The longest of these rathas is the Bhima ratha and the tallest one is Yudhishtra ratha.