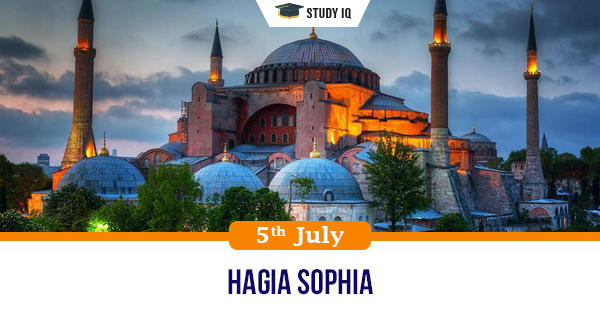 Hagia Sophia
Date: 05 July 2020
Tags: Architecture
Issue
Turkey's highest court recently convened to decide whether Istanbul's iconic Hagia Sophia museum can be turned into a mosque.
Background
The 1,500-year-old structure, listed as a UNESCO World Heritage site, was originally a cathedral before it was turned into a mosque.
Details
Mustafa Kemal Ataturk, the founder of the Republic of Turkey, shut down the mosque and turned it into a museum in an attempt to make the country more secular.

There have been calls for long from Islamist groups and nationalists in the country to convert the Hagia Sophia back into a mosque.

Turkey's President Recep Tayyip Erdo?an had said it had been a "very big mistake" to turn the Hagia Sophia into a museum and that he was considering reverting it.

Observers believe that Erdogan's plans for the conversion of the Hagia Sophia are closely connected with his attempts to score political points more than anything else.

Greece had appealed to UNESCO, objecting to Turkey's moves on grounds that the conversion would violate international conventions.
History
The construction of this iconic structure in Istanbul started in 532 AD during the reign of Justinian I, the ruler of the Byzantine Empire when the city was known as Constantinople.

The structure was originally built to become the seat of the Patriarch of the Eastern Orthodox Church and remained so for approximately 900 years.

In 1453, when Constantinople fell to Ottoman forces, the Hagia Sophia was ransacked by the invading forces and turned into a mosque shortly after.

The structure of the monument was then subjected to several interior and exterior changes where Orthodox symbols were removed or plastered upon and minarets were added to the exterior of the structure.