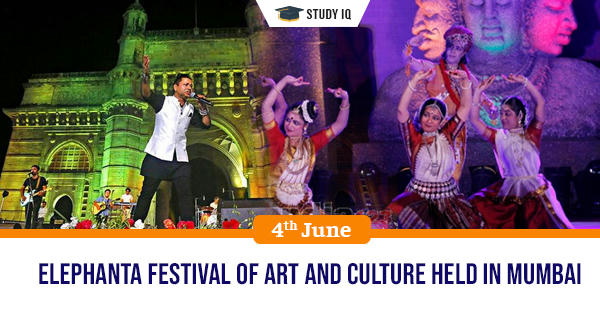 Elephanta Festival of Art and Culture held in Mumbai
Date: 04 June 2019
Tags: Architecture
The Elephanta Festival of art and culture was held at Gharapuri island in Mumbai. The event is being organised on the Elephanta Island by the Maharashtra Tourism Development Corporation (MTDC). The festival was started in 2012 and since then is held every year to promote tourism and culture of Mumbai. It is held on Gharapuri island where Elephanta Caves are located.
About Elephanta Caves
This site is collection of rock-cut caves. It is located on Elephanta Island, or Gharapuri (literally "the city of caves") in Mumbai Harbour,

off

shore about 2 kilometres west of the Jawaharlal Nehru Port.

The island was christened Elephanta from Gharapuri by the Portuguese after they found a statue of an elephant on the island.

It is currently maintained by the Archaeological Survey of India (ASI).

Features of cave:

It consists of five hindu caves and few Buddhist stupa mounds, as well as a small group of two Buddhist caves with water tanks. These caves were cut into granite rocks and were constructed about the mid-5th to 6th centuries AD.

Layout of the caves:

They signify important developments in rock-cut architecture. It shows syncretism of Hindu and Buddhist ideas and iconography. These caves consists of pillar components and sanctum or Garbhagriha of sarvatobhadra plan.

Recognition:

It was designated UNESCO World Heritage Site in 1987.