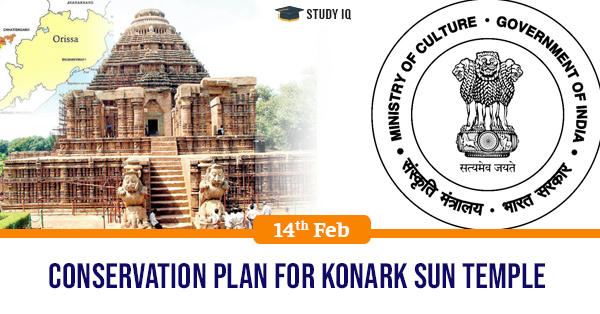 Conservation plan for Konark Sun temple
Date: 14 February 2020
Tags: Architecture
Issue
Ministry of Culture has said that a plan to restore and preserve the nearly 800-year-old Konark Sun Temple in Odisha would be drawn up soon.
Background
A scientific study was carried out by the Roorkee-based Central Building Research Institute from 2013 till 2018 to ascertain the temple's structural stability as well as the status of the filled-in sand.
Details
The 13th Century temple, which is a UNESCO World Heritage Site, had been filled with sand and sealed by the British authorities in 1903 in order to stabilise the structure.

Among the potential choices before the government would be to fill in more sand or to remove all the sand and put in place alternate support.
Konark Sun Temple
Konark Sun Temple is a 13th-century CE Sun temple at Konark near Puri on the coastline of Odisha.The temple is attributed to king Narasinga Deva I of the Eastern Ganga Dynasty about 1250 CE.

The structures and elements that have survived are famed for their intricate artwork, iconography, and themes, including erotic kama and mithuna scenes.

Also called the Surya Devalaya, it is a classic illustration of the Odisha style of Architecture or Kalinga Architecture.

This temple was called the "Black Pagoda" in European sailor accounts as early as 1676 because its great tower appeared black.

The stone temple was made from three types of stone. Chlorite was used for the door lintel and frames as well as some sculptures. Laterite was used for the core of the platform and staircases near the foundation. Khondalite was used for other parts of the temple.
The temple, built from Khondalite rocks, was originally constructed at the mouth of the river Chandrabhaga, but the waterline has receded since then. The wheels of the temple are sundials, which can be used to calculate time accurately to a minute.