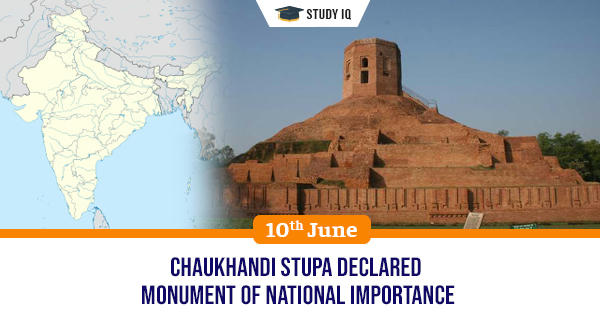 Chaukhandi Stupa declared Monument of National Importance
Date: 10 June 2019
Tags: Architecture, Historical Places
Archaeological Survey of India (ASI) has declared ancient Buddhist site in Sarnath Uttar Pradesh known as Chaukhandi Stupa as "protected area (monument) of national importance".
Chaukhandi Stupa
It is said to be originally a terraced temple constructed during the Gupta period between 4th to 6th century. Presently, this stupa is high earthen mound covered with brickwork edifice topped by octagonal tower. It is maintained by ASI.

Significance:

It was built to mark site where Lord Buddha and his first disciples met traveling from Bodh Gaya to Sarnath.

Present shape to Chaukhandi Stupa:

It was given during reign of Govardhan, the son of Raja Todarmal. Under this rule, an octagonal tower was built to commemorate visit of Humayun, the great Mughal ruler.

Excavations:

Some Buddha and other statues found during excavations at Chaukhandi Stupa are said to be rare artefacts and classic examples of art from the Gupta period.
Background
What is Ancient Monument of National Importance? Section 4 of Ancient Monuments and Archaeological Sites and Remains Act, 1958 empowers government to declare ancient monuments or archaeological sites which are of historical, archaeological or artistic interest and which have been in existence for not less than 100 years as of national importance.
Role of ASI: The protection and maintenance of monuments, declared as of national importance is taken up by ASI by way of chemical preservation m structural repairs, environmental development around the monument.