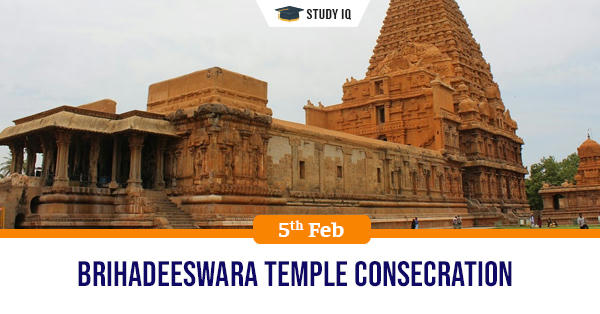 Brihadeeswara temple consecration
Date: 05 February 2020
Tags: Architecture
Issue
The four Main Streets leading to the Sri Brahadeeswarar Temple in the Old Town area are ready to celebrate consecration ceremony.
Details
Brahadeeswara temple
Brihadishvara Temple, also called Rajarajesvaram or Peruvudaiy?r K?vil, is a temple dedicated to Shiva located in South bank of Kaveri river in Thanjavur, Tamil Nadu.

It is one of the largest South Indian temples and an exemplary example of a fully realized Dravidian architecture. It is called as Dhakshina Meru (Meru of south).

Built by Tamil king Raja Raja Chola I between 1003 and 1010 AD, the temple is a part of the UNESCO World Heritage Site known as the "Great Living Chola Temples", along with the Chola dynasty era Gangaikonda Cholapuram temple and Airavatesvara temple.

The temple complex includes gopura, the main temple, its massive tower, inscriptions, frescoes and sculptures predominantly related to Shaivism, but also of Vaishnavism and Shaktism traditions of Hinduism.

Built out of granite, the vimana tower above the sanctum is one of the tallest in South India.