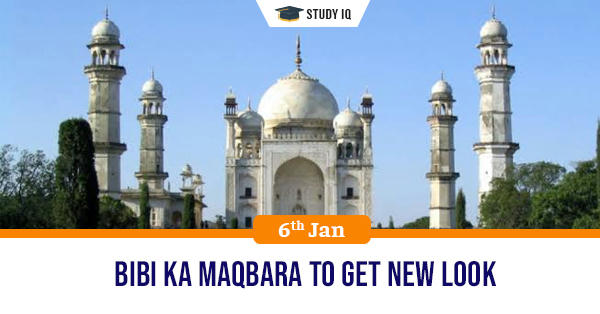 Bibi ka Maqbara to get new look
Date: 06 January 2020
Tags: Architecture
Issue
The marble domes of Bibi Ka Maqbara, the famous 17th century Mughal-era monument in the Aurangabad, are set to get a new shine.
Background
The domes and other marble parts of the mausoleum will undergo scientific conservation. The work will involve cleaning and and carrying out a chemical treatment to give it a new glow. The paintings inside the entrance of the mausoleum, too, will undergo cleaning.
Details
The structure, known as the 'Taj of the Deccan' because of its striking resemblance to the Taj Mahal, was commissioned by Emperor Aurangzeb in 1660 in the memory of his wife Dilras Banu Begum.

Aurangzeb was not much interested in architecture though he had commissioned the small, but elegant, Pearl Mosque at Delhi. Bibi Ka Maqbara is the largest structure that Aurangzeb has to his credit.
Architectural details
The mausoleum is laid out in a charbagh formal garden. The mausoleum is crowned by a dome pierced with trellis works and accompanying panels decorated with flower designs.

The structure is in the form of a hexagon, its angles ornamented with minarets.The mausoleum is built on a high square platform with four minarets at its corners, which is approached by a flight of steps from the three sides. A mosque is found to the west of the main structure.
Major features of Mughal architectural styles
Charbagh
Charbagh is a Persian-style garden layout, in which the main building is put at the centre of a quadrilateral garden, divided by walkways or flowing water into four smaller parts.

Charbagh style was brought to India by Mughals. Humayun's tomb and Taj Mahal in India are the most famous examples of this style.
Hasht Behesht
In architecture, a hasht-behesht, literally meaning "eight heavens" in Persian, is a type of floor plan consisting of a central hall surrounded by eight rooms, the earliest recognized example of which in Iranian architecture is traced to the time of the Persianate empire.

In the architecture of the Persianate Mughal Empire, hasht-behesht was the favorite plan for gardens and pavilions, as well as for mausoleum.

These were planned as square or rectangular buildings divided into nine sections, with a central domed chamber surrounded by eight elements.
Pietra dura
Pietra dura is a term for using cut and fitted, highly polished colored stones to create images. The stonework is glued stone-by-stone to a base after being sliced and cut in different shape sections; and then assembled together so precisely that the contact between each section was practically invisible.