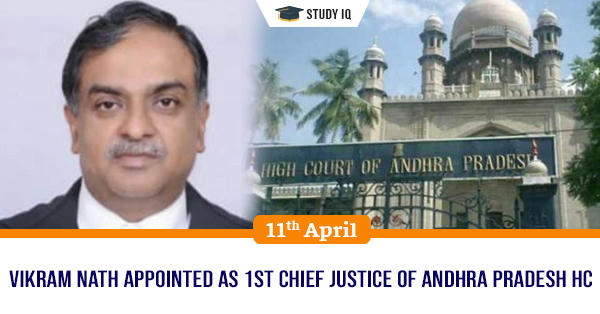 Vikram Nath appointed as 1st Chief Justice of Andhra Pradesh HC
Date: 11 April 2019
Tags: Appointments & Resignations
Senior judge of Allahabad high court, Justice Vikram Nath (56) was appointed as the first Chief Justice of Andhra Pradesh High Court. He was appointment was recommended by collegium of Supreme Court comprising Chief Justice of India Ranjan Gogoi and judges S A Bobde and N V Ramana.
Andhra Pradesh High Court
New high court for Andhra Pradesh was created on January 1, 2019, following the bifurcation of combined high court for AP and Telangana. It is having total 16 judges including Chief Justice.

It was created through Presidential order notified under Article 214 of Constitution. With this, total strength for high courts in India is now 25.

The separate HC for Andhra Pradesh was mandated under Section 30 of Andhra Pradesh Reorganisation Act, 2014 (which was enacted with view to provide reorganisation of existing Andhra Pradesh).

At present, it is functioning from newly built interim judicial complex at Nelapadu in Andhra Pradesh's new capital city region of Amaravati.

State government is constructing an exclusive Justice City as part of Amaravati for judiciary, which is expected to be completed in two years.

Once it is completed, the high court and all its subordinate courts would move into the Justice City.