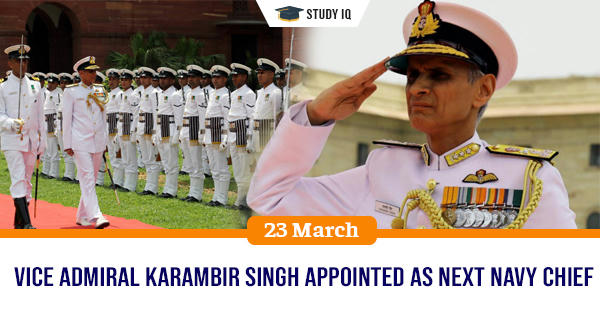 Vice Admiral Karambir Singh appointed as next Navy Chief
Date: 23 March 2019
Tags: Appointments & Resignations
Appointments Committee of Cabinet (ACC) has appointed Vice Admiral Karambir Singh as next Chief of Naval Staff. He will be 24th chief of Indian Navy and 22nd as an Indian. He will assume office in May 2019 after Admiral Sunil Lanba retires/vacates office. Prior to this appointment, Vice Admiral Singh was serving as Flag Officer Commanding in Chief of Eastern Naval Command in Visakhapatnam, Adhra Pradesh. He will be the first helicopter pilot to occupy the office of Navy chief.
About Karambir Singh
He is alumnus of the National Defence Academy (NDA), Khadakwasla, Pune. He was ommissioned into Indian Navy in July 1980.

He had earned his wings as helicopter pilot in 1982. He is graduate of Defence Services Staff College, Wellington and College of Naval Warfare, Mumbai.

In his 36-years of navl career, he has commanded an Indian Coast Guard Ship, Naval Missile Corvette as well as Guided Missile Destroyers INS Rana and INS Delhi.

He also served as Fleet Operations Officer of Western Fleet and was Flag Officer Commanding Maharashtra and Gujrat area.

Before taking over as FOC-in-C Eastern Naval Command in October 2017, he was Director General Project Seabird, Deputy Chief of Naval Staff and Vice Chief of Naval Staff.

He has been decorated with Param VishishtSeva Medal (PVSM) and AtiVishishtSeva Medal (AVSM).
Chief of the Naval Staff
He is commander and the highest-ranking officer in Indian Navy. It is usually held by a four-star officer in the rank of Admiral. This position is abbreviated CNS in Indian Navy cables and communication.
Seniority criterion Overlooked
In appointment of Vice Admiral Karambir Singh, Government overlooked seniority criterion as Vice Admiral Bimal Verma (chief of the Andaman and Nicobar-based tri-service command) is senior-most officer in Indian Navy after retirement of Admiral Sunil Lanba. This for second time Government overlooked seniority criterion. Earlier, Government had overlooked senior officer by appointing General Bipin Rawat as Chief of Army Staff (Army General) in 2016.