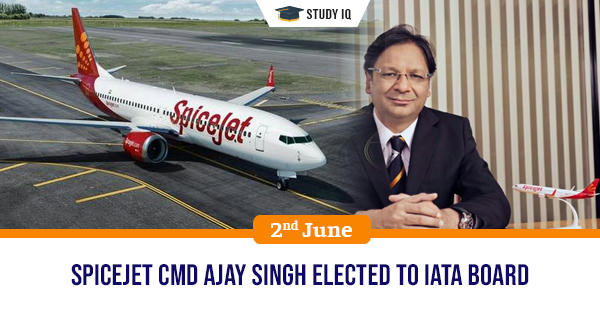 SpiceJet CMD Ajay Singh elected to IATA board
Date: 02 June 2019
Tags: Appointments & Resignations
Low-cost carrier SpiceJet's Chairman and Managing Director Ajay Singh was elected to Board of Governors (BoG) of International Air Transport Association (IATA). It comes three months after Spicejet became the first Indian low-cost carrier to take membership of the IATA, a grouping of around 290 airlines.
New board of IATA
It will be chaired by Lufthansa Group Chief Executive Officer (CEO), Carsten Spohr. He will be the Chairman of the IATA Board of Governors (BoG) for a one-year term.

Other board members include Air Canada President and CEO, Calin Rovinescu, Qantas CEO, Alan Joyce, and Qatar Airways CEO, Akbar Al Baker.
International Air Transport Association (IATA)
It is trade association for the world's airlines. It represents some 290 airlines primarily major carriers, representing 117 countries, accounting for 82% of total air traffic.

It was established in April 1945.It is successor to International Air Traffic Association established in 1919. It is headquartered in Montreal, Quebec, Canada.

Functions: It supports airline activity and helps formulate industry policy and standards.

It helps airlines to operate safely, securely, efficiently, and economically under clearly defined rules.

It provides professional support is provided to all industry stakeholders with wide range of products and expert services.

It assists airlines by simplifying processes and increasing passenger convenience while reducing costs and improving efficiency.

It also improves understanding of air transport industry among decision makers and increase awareness of benefits of aviation sector to national and global economies.
Note: Founder and former chairman of now grounded Jet Airways, Naresh Goyal, who was associated with BoG of IATA for long time and was a member on the previous board. Jet Airways, which served skies for more than 25 years, was forced to temporarily suspend operations in the wake of cash crunch.