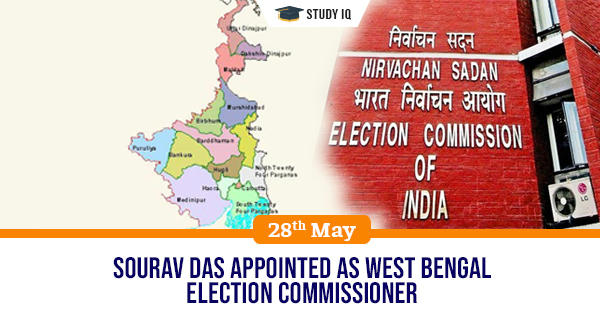 Sourav Das appointed as West Bengal Election Commissioner
Date: 28 May 2019
Tags: Appointments & Resignations
West Bengal Governor has appointed Sourav Das as State Election Commissioner as per Article 243K of Constitution of India. He will succeed Amarendra Nath Singh who has completed his tenure.
Article 243K
It deals with the Elections to the Panchayats. It states that superintendence, direction and control of preparation of electoral rolls for, and the conduct of, all elections to the Panchayats shall be vested in a State Election Commission. It gives constitutional authority to state election commission (along with Article 243ZA) for conduct of elections to municipalities, panchayats and other local bodies
It also mandates that state election shall consist of State Election Commissioner to be appointed by the Governor. State Election Commissioner can be removed from his in manner and on the like ground as a Judge of a High Court. (Thus, though State Election Commissioner is appointed by Governor, he can be removed only by President of India).