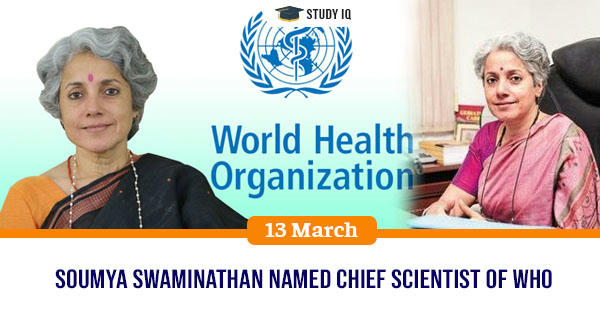 Soumya Swaminathan named Chief Scientist of WHO
Date: 13 March 2019
Tags: Appointments & Resignations
Dr. Soumya Swaminathan was named Chief Scientist of World Health Organisation (WHO). She is currently one of three Deputy Director-General of WHO. Chief Scientist is new position (division) in WHO for ushering reforms in the organisation.
Chief Scientist of WHO: It is seen as fifth pillar to strengthen WHO's core scientific work, ensure quality and consistency of norms and standards. It will ensure WHO anticipates and stays on top of the latest scientific developments
Other four pillars of WHO are
Emergencies Pillar:

It is responsible for WHO's critical health security responsibilities across the world, both in responding to health crises and helping countries prepare for them.

External Relations and Governance Pillar:

It centralise and harmonise WHO's work on resource mobilisation and communications.

Programs pillar: It support the agenda of Universal Health Coverage.

Business Operations Pillar:

It ensures more professionalised delivery of key corporate functions such as budgeting, finance, human resources and supply chain.
Dr. Soumya Swaminathan
She is paediatrician and clinical scientist and globally-recognised researcher on tuberculosis (TB) and HIV.

She has over 30 years of experience in clinical care and research. She did her MBBS and MD from Armed Forces Medical College (AFMC) and All India Institute of Medical Sciences (AIIMS).

She was appointed Deputy Director-General of WHO in October 2017. It is so far highest post held by Indian in WHO.

Earlier she had served as Coordinator of UNDP/UNICEF/ World Bank/WHO Special Programme for Research and Training in Tropical Diseases (TDR) in Geneva from 2009 to 2011.

She is daughter of Dr MS Swaminathan, famously known father of green revolution in India.
World Health Organization (WHO)
It is specialized agency of United Nations (UN) oncerned with international public health. It is member of the United Nations Development Group (UNDP)

It was established in April 1948. It had succeeded Health Organization, which was an agency of League of Nations.

It is headquartered in Geneva, Switzerland. Its flag features the Rod of Asclepius as a symbol for healing.

World Health Assembly is highest decision making body of WHO. WHO publishes World Health Report, Worldwide World Health Survey, and World Health Day.

The current Director-General of WHO is Tedros Adhanom, (started his five-year term on 1 July 2017).