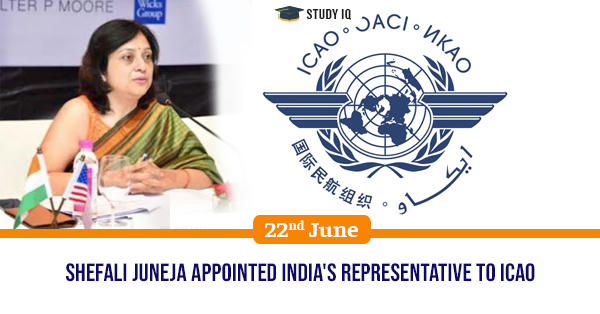 Shefali Juneja appointed India's representative to ICAO
Date: 22 June 2019
Tags: Appointments & Resignations
Senior bureaucrat Shefali Juneja was appointed as India's representative in the council of International Civil Aviation Organisation (ICAO). She has been appointed to the post of Representative of India in the ICAO, Montreal, Canada for a period of three years. She will replace senior IAS officer Alok Shekhar who was named for the post in October 2015. Juneja is 1992 batch officer of Indian Revenue Service (Income Tax cadre). At present, she is Joint Secretary in Ministry of Civil Aviation.
About International Civil Aviation Organisation (ICAO)
It is specialized agency of United Nations (UN) to manage the administration and governance of the Convention on International Civil Aviation (Chicago Convention). It was established in 1944. It is headquartered in Quartier International of Montreal, Quebec, Canada.

It works with Chicago Convention's 193 Member States and industry groups to reach consensus on international civil aviation Standards and Recommended Practices (SARPs) and policies for safe, efficient, secure, economically sustainable and environmentally responsible civil aviation sector.

Functions:

It sets standards and regulations necessary for aviation safety, security, efficiency, capacity and environmental protection. It also serves as the forum for cooperation in all fields of civil aviation among its 191 member states.

ICAO Council:

It is composed of 36 states, and elected for three-year term. Its member states are chosen under three headings (i) States which make largest contribution to provision of facilities for air navigation (ii) States of chief importance in air transport and (iii) States whose designation will ensure that all major areas of the world are represented.