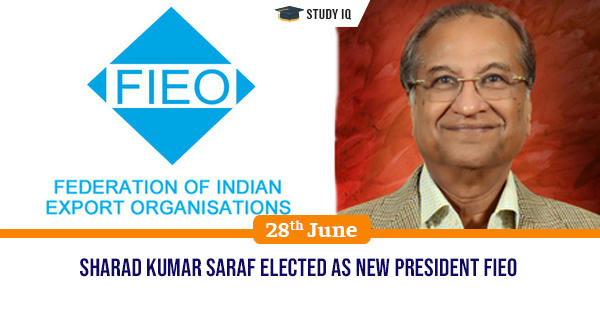 Sharad Kumar Saraf elected as new President FIEO
Date: 28 June 2019
Tags: Appointments & Resignations
Sharad Kumar Saraf was elected as new President of exporters body Federation of Indian Export Organisations (FIEO). He replaced renowned exporter Ganesh Kumar Gupta.
Sharad Kumar Saraf is also Chairman and Founder of Technocraft Industries (India). In his new role, he will work in further pushing the issues of exporters at different forums and boost the country's exports. In his earlier stints at FIEO, he had served twice as Vice-President and four times as Regional Chairman (west region). During his stint as VP, he had established Indian Exporters Grievance Forum for addressing exporters' grievances through legal channel.
Federation of Indian Export Organisations (FIEO)
It is apex and largest trade promotion organisation in India representing export promotion councils, commodity boards and export development authorities.

It was jointly established in 1965 by Union Ministry of Commerce &Industries and private trade and industry. It is headquartered in New Delhi. It directs members contribute more that 70% of India's exports.

Functions:

It is responsible for representing and assisting Indian entrepreneurs and exporters in foreign markets. It provides crucial interface interface between international trading community of India and Central and State Governments, financial institutions, railways, ports, surface transport and all engaged export trade facilitation.