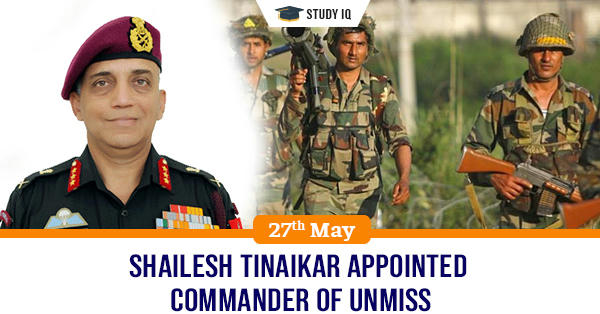 Shailesh Tinaikar appointed commander of UNMISS
Date: 27 May 2019
Tags: Appointments & Resignations
Lieutenant General Shailesh Tinaikar, commandant of the Indian Army Infantry School, was appointedas commander of United Nations Mission in South Sudan (UNMISS). His appointment was announced by UN Secretary-General Antonio Guterres. He succeeded Lieutenant General Frank Kamanzi of Rwanda who has completed his assignment. In his new role, Lieutenant General Shailesh Tinaikar will command over 16,000 peacekeepers, about 2,400 from India in UNMISS, the second biggest peacekeeping operation.
General Shailesh Tinaikar
He is 1983 graduate of the Indian Military Academy (IMA), Dehradun. He has served as Additional Director General of Military Operations at Army Headquarters. He was also incharge of Infantry School in Mhow. He has also commanded a division, recruit training centre and brigade. He is the recipient of Sena Medal and the Vishisht Seva Medal for Distinguished Service. Earlier he also had served in the peacekeeping mission in Sudan before South's independence. He has also served in UN Angola Verification Mission III.
About United Nations Mission in South Sudan (UNMISS)
It was created by United Nations Security Council Resolution 1996 in 2011 when South Sudan gained independence from Sudan. It works with Government and people of South Sudan to protect civilians and build durable peace.
It also works to facilitate safe delivery of humanitarian assistance, such as food, clean water, shelter and healthcare. It protects monitors, investigates, and reports on human rights violations and abuses with strong focus on most vulnerable, such as women and children and those who are subjected to sexual and gender-based violence.
Mandate: (i)Support for peace consolidation and thereby fostering longer-term statebuilding and economic development (ii) Support Government of South Sudan in exercising its responsibilities for conflict prevention, mitigation and resolution and protect civilians (iii) Support Government of South Sudan in developing its capacity to provide security, establish rule of law and strengthen the security and justice sectors.
Note: As per Chapter VII of UN Charter, peacekeeping mission is concerned with protection of civilians, and not mandated to engage in protection of South Sudan's territory or sovereignty of that territory.