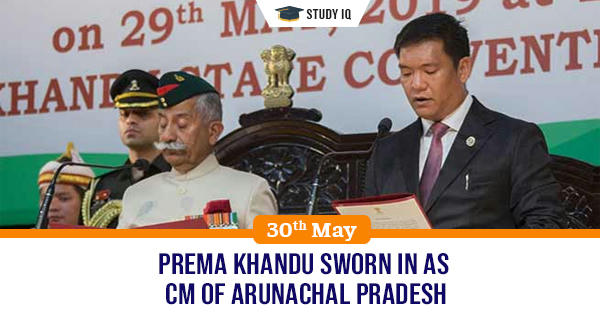 Prema Khandu sworn in as CM of Arunachal Pradesh
Date: 30 May 2019
Tags: Appointments & Resignations
Prema Khandu was sworn-in as the Chief Minister of Arunachal Pradesh for second term. Chronologically, he is the 10th CM of this north eastern state which borders China and Myanmar.Along with him, 11 other ministers of the cabinet were also sworn in. They were administered oath of office and secrecy by Governor

Brigadier (Retd.) Dr. BD Mishra.
Background
In recently concluded 2019 Arunachal Pradesh Legislative Assembly election, Bhartiya Janta Party led by Prema Khandu had won 41 seats in 60-member Assembly. The elections were held simultaneously with Lok Sabha elections.
About Prema Khandu
He was born on 21 August 1979 in Gyangkar village, Tawang District of Arunachal Pradesh. He is son of former Arunachal Pradesh Chief Minister Dorjee Khandu, who had died in a helicopter crash in May 2011.
Following his father's death, he was elected unopposed from Mukto (ST) constituency and was included in then Congress led-state government (under CM Nabam Tuki) as Cabinet Minister of Water Resource Development and Tourism.
Later in 2016, he had changed his party affiliation from Congress to Bharatiya Janata Party. He was became CM for first time in December 2019, at age of 36, making him youngest CM in the country.