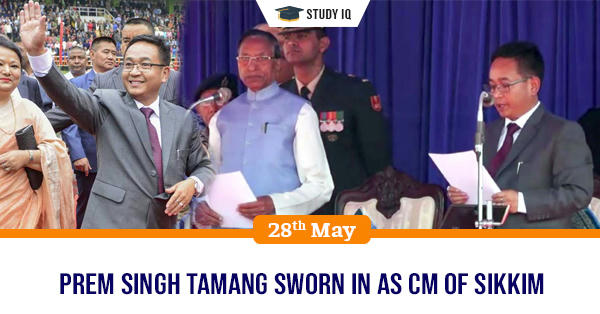 Prem Singh Tamang sworn in as CM of Sikkim
Date: 28 May 2019
Tags: Appointments & Resignations
Sikkim Karantikari Morcha (SKM) President Prem Singh Tamang (famously known as P S Golay) was sworn in as sixth Chief Minister of Sikkim. He was administered oath of office and secrecy Governor Ganga Prasad along with his cabinet colleagues in Gangtok.
Background
In recently concluded 8th Sikkim Legislative Assembly elections for electing 32 members, SKM had emerged victorious by winning 17 seats. It had ousted 25-year rule of Sikkim Democratic Front (SDF) led by five-time chief minister Pawan Kumar Chamling, which had won 15 seats. It brings end of Pawan Chamling rule in state, who holds record of being longest-serving Chief Minister in any Indian state (in office for 8932 days from December 1994 to May 2019).
About Prem Singh Tamang
He founder of the Sikkim Krantikari Morcha (SKM). Prior to forming party in 2013, he was a key member of the Sikkim Democratic Front (SDF) Party. Prior to his active political career, he was graduate teacher under education department in Sikkim Government from 1990 to 1993.
Note: Sikkim was made part of India in 1975 after enactment of 35th Constitutional Amendment and was made as its 22nd state. Its capital is Gangtok.