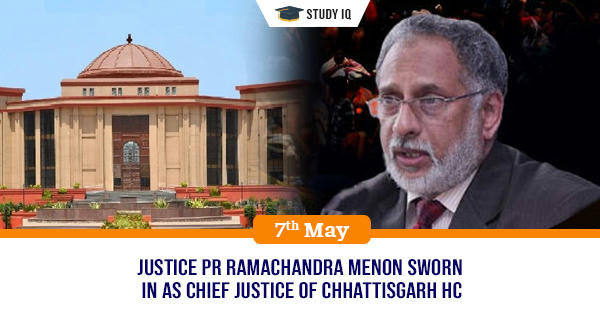 Justice PR Ramachandra Menon sworn in as Chief Justice of Chhattisgarh HC
Date: 07 May 2019
Tags: Appointments & Resignations
Justice PR Ramachandra Menon was sworn in as 13th Chief Justice of the Chhattisgarh High court. He was administered oath of office and secrecy by Governor Anandiben Patel at Raj Bhawan in state capital Raipur. He succeeds Chief Justice Ajay Kumar Tripathi who had resignation following his appointment as judicial member in the Lokpal.
Chief Justice Menon
He was born on June 1, 1959. He had obtained Law degree from the Government Law College, Ernakulam in Kerala.

He enrolled as advocate in January 1983. He had started practice in Labour, Insurance and Constitutional Laws at Ernakulam, it said.

He was sworn-in as Additional Judge of High Court of Kerala in January 2009 and later on December 2010 was appointed as permanent Judge of High Court of Kerala.
High Courts in India
According to Article 214 of the constitution, each state of India shall have a High Court. The Chief Justice of a High Court is appointed by President with consultation of the Chief Justice of Supreme Court and Governor of the State. The other judges are appointed by will of President, Governor of state and Chief Justice of High Court.