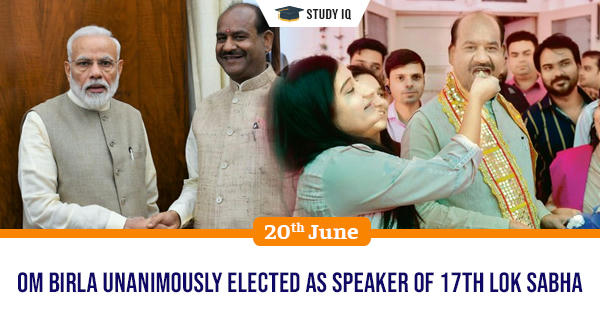 Om Birla unanimously elected as Speaker of 17th Lok Sabha
Date: 20 June 2019
Tags: Appointments & Resignations
BJP MP and NDA nominee Om Birla (53) was unanimously elected as the Speaker of 17th Lok Sabha. He is second term BJP MP from Kota in Rajasthan and succeeds BJP veteran Sumitra Mahajan who did not contest the Lok Sabha election. The motion for his nomination was moved by Prime Minister Narendra Modi in Lok Sabha and was adopted by voice vote. He was declared elected by pro-tem Speaker Virendra Kumar.
Background (Election of Speaker)
In the Lok Sabha Presiding Officers— Speaker and tDeputy Speaker are elected from among its members by simple majority of members present and voting in House.

Qualifications:

There are no specific provisions for qualifications prescribed in Constitution for being elected the Speaker. The Constitution only requires that Speaker should be member of Lower House of Parliament.

Term of Office:

Speaker holds office from the date of his election till immediately before first meeting of the Lok Sabha after the dissolution of the one to which he was elected. He is eligible for re-election.

Note:

On the dissolution of Lok Sabha, Speaker ceases to be member of the House, but he/she does not vacate his office.

Removal and Vacancy:

Speaker may, at any time, resign from office by writing under his hand to the Deputy Speaker. Besides, Speaker can be removed from office only on resolution of House (Lok Sabha) passed by a majority of all members of the House.