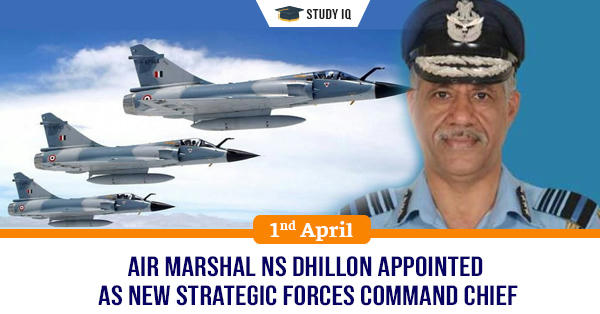 Air Marshal NS Dhillon appointed as new Strategic Forces Command chief
Date: 01 April 2019
Tags: Appointments & Resignations
Air Marshal NS Dhillon was appointed new Commander in Chief of Strategic Forces Command (SFC). He succeeded Jasbir Walia. SFC looks after the strategic nuclear arsenal of the country.
Air Marshall NS Dhillon
He is alumni of National Defence Academy (NDA) in Khadakwasla, Pune. He also attended Defence Services Staff College in Wellington and National Defence College in New Delhi. He was born in 1961 in Dhand village near Amritsar., Punjab.
Strategic Forces Command (SFC)
It is tri-Service command that forms part of India's Nuclear Command Authority (NCA).

It is responsible for management and administration of the country's tactical and strategic nuclear weapons stockpile.

It was established January 2003 by executive order of Cabinet Committee on Security (CCS) headed by then Prime Minister Atal Bihari Vajpayee.

It is headed by a Commander-in-Chief of rank of Air Marshal, who is a three-star rank officer. The first commander-in-chief was Air Marshal Teja Mohan Asthana.

Function:

It has sole responsibility of initiating process of delivering nuclear weapons and warheads, after acquiring explicit approval from NCA.

It manages and administers all strategic forces by exercising complete command and control over nuclear assets. It also produces all contingency plans as needed to fulfill required tasks.

It decides exact selection of the target area through calibrated, cumulative process involving various levels of decision-making and with formal approval by NCA.