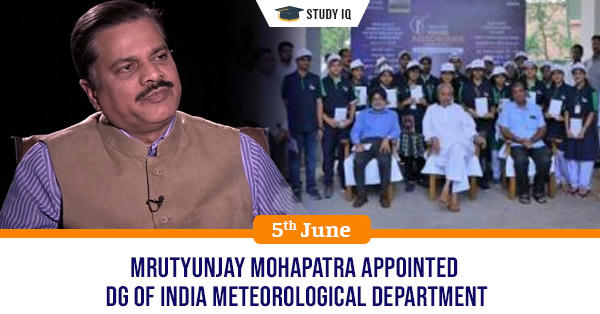 Mrutyunjay Mohapatra appointed DG of India Meteorological Department
Date: 05 June 2019
Tags: Honours & Awards, Appointments & Resignations
Renowned scientist Mrutyunjay Mohapatra was appointed as Directed General- General of Meteorology, India Meteorological Department (IMD). He will assume charge of the post on or after August 1, 2019 and shall have tenure of five years. He is Scientist 'G' in the IMD.
India Meteorological Department (IMD)
It is the principal agency of Central Government responsible for meteorological observations, weather forecasting and seismology and allied subjects.

It is the National Meteorological Service of the country. It was established in 1875. It is headquartered in New Delhi. It functions under Ministry of Earth Sciences.

It is one of six Regional Specialised Meteorological Centres of World Meteorological Organization (WMO).

Mandate:

(i) Undertake meteorological observations and provide current and forecast meteorological information for optimum operation of weather-sensitive activities like agriculture, irrigation, aviation, offshore oil explorations, , shipping, etc. (ii) Warn against severe weather phenomena like tropical cyclones, duststorms, heavy rains and snow, norwesters, cold and heat waves, etc. (iii) Provide meteorological statistics required for agriculture, water resource management, industries and other nation-building activities. (iv) Conduct and promote research in meteorology and allied disciplines. (v) Detect and locate earthquakes and to evaluate seismicity in different parts of the country for development projects.