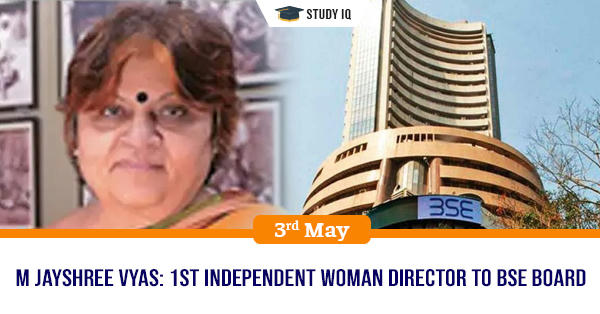 M Jayshree Vyas: 1st Independent Woman Director to BSE board
Date: 03 May 2019
Tags: Appointments & Resignations
India's largest stock exchange Bombay Stock Exchange (BSE) has appointed chartered accountant M Jayshree Vyas as its first independent woman director of its board. However, BSE has missed deadline of April 1, 2019 which was given by Government to all top 500 listed companies based on their market capitalisation to appoint independent woman director on their board. It was due delay final nod from market regulator SEBI's approval on the appointment.
M Jayshree Vyas
She is qualified chartered accountant. She was working as Managing Director of Shree Mahila Sewa Sahakari Bank, Ahmedabad, since 1986. She played pivotal role in launching of first financial literacy programme in Sewa Bank in 2001.
Statutory Guidelines
According to Companies Act, 2013, certain category of companies notified by Ministry of Corporate should have at least one woman director on board. Securities Exchange Board of India (SEBI), in compliance with the provisions of this law has made it mandatory to have at least one woman director on board from October 2014.
However, according to some reports as of April 2019, 51 of top 500 National Stock Exchange (NSE)-listed companies in terms of market capitalisation had not appointed independent woman director.
About Bombay Stock Exchange (BSE)
It is the oldest stock exchange in Asia and was formed by eight native stock brokers association in 1875. It is located on Dala street, Mumbai. Its iconic building in Mumbai is named Phiroze Jeejeebhoy Towers Dalal Street. At present, it is 10th largest stock market in the world by market capitalization at $1.7 trillion and has more than 5,000 companies listed in it.