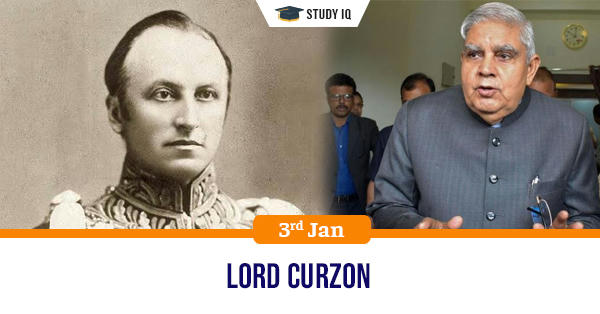 Lord Curzon
Date: 03 January 2020
Tags: Appointments & Resignations
Issue
West Bengal Governor Jagdeep Dhankhar drew widespread criticism over his tweet referring to a table, apparently used by Lord Curzon to sign papers pertaining to the Partition of Bengal in 1905.
Background
Lord Curzon, India's Viceroy between 1899 and 1905, was one of the most controversial and consequential holders of that post.
Details
The partition of the undivided Bengal Presidency in 1905 was one of Curzon's most criticised moves, which triggered widespread opposition not only in Bengal but across India, and gave impetus to the freedom movement.

In July 1905, Curzon announced the partition of the undivided Bengal Presidency. The Presidency was the most populous province in India, with around 8 crore people, and comprised the present-day states of West Bengal, Bihar, parts of Chhattisgarh, Odisha, and Assam, as well as today's Bangladesh.

A new province of East Bengal and Assam was announced, with a population of 3.1 crore, and a Muslim-Hindu ratio of 3:2.

While the move was ostensibly aimed at making the administration of the large region easier, Curzon's real intentions were to create religious divide.
Swadeshi Movement of 1905
The partition provoked great resentment and hostility in Bengal. It was clear to the Bengal Congress and patriotic Indians in both Bengal and elsewhere that Curzon's motive was to crush the increasingly loud political voices of the literate class in the province.

A campaign to boycott British goods, especially textiles, and promote swadeshi began. There were marches and demonstrations with the protesters singing Bande Mataram to underline their patriotism and challenge the colonialists.

Rabindranath Tagore led the marches at many places, and composed many patriotic songs, most famously 'Amar Sonar Bangla' (My Golden Bengal), which is now the national anthem of Bangladesh.

Partition was finally reversed in 1911 by Lord Hardinge in the face of unrelenting opposition.

The Swadeshi movement, which had grown significantly during the agitation, later reached nationwide proportions.

The partition of Bengal and the highhanded behaviour of Curzon fired the national movement and the Congress and made it active and effective than at any time in its history.