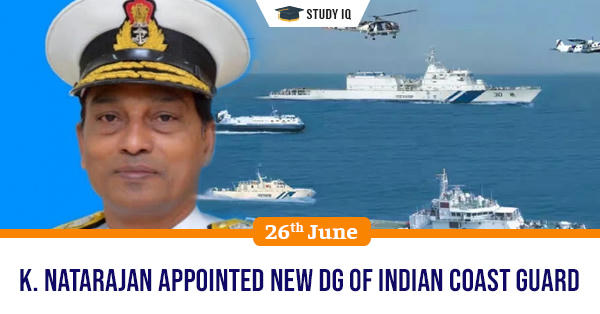 K. Natarajan appointed new DG of Indian Coast Guard
Date: 26 June 2019
Tags: Appointments & Resignations
Appointments Committee of the Cabinet (ACC) has appointed K Natarajan as the next Director General (DG) of Indian Coast Guard (ICG). He will take over from Rajendra Singh, who retires on June 30, 2019. With this, Natarajan becacem second Coast Guard officer to lead ICG (his predessor Rajendra Singh was the first cadre officer to head the force).
K. Natarajan
He had joined IGC in January 1984. He holds Masters Degree in Defence and Strategic Studies from Madras University.

Cuurrently, he is Additional Director General (ADG) of ICG's Western Sea Board, which looks after security of the sensitive maritime boundary from Gujarat to Kerala. Prior to this, he has held various important Command and Staff appointments, both afloat and ashore.

As Flag Officer, he has commanded all classes of IGC ships, namely Advanced Offshore Patrol Vessel (AOPV) Sangram, Offshore Patrol Vessel (OPV) Veera, Fast Patrol Vessel (FPV) Kanaklata Barua and Inshore Patrol Vessel (IPV) Chandbibi.

H also has held appointments of Chief Staff Officer (Personnel & Administration) at Headquarters Region (East), Chennai and Chief of Staff at Headquarters Region (West), Mumbai. He also has held appointment of Officer-in-Charge, Coast Guard Training Centre, Kochi.
About Indian Coast Guard (ICG)
It is statutory Armed Force functioning under Ministry of Defence. It was established on 18 August 1978 by Coast Guard Act, 1978. It functions under the aegis of Union Ministry of Defence.

Mandate:

Protect India's maritime interests and enforces maritime law, with jurisdiction over the territorial waters of India, including its contiguous zone and exclusive economic zone (EEZ).

It works in close cooperation with Indian Navy, Department of Fisheries, Department of Revenue (Customs) and Central and State police forces.
Organization Structure:

It is headed by Director General exercising his overall command and superintendence from Coast Guard Headquarters (CGHQ) located at New Delhi.

At CGHQ, he is assisted by four Deputy Director Generals of rank of Inspector General, and other senior officers heading various staff divisions.