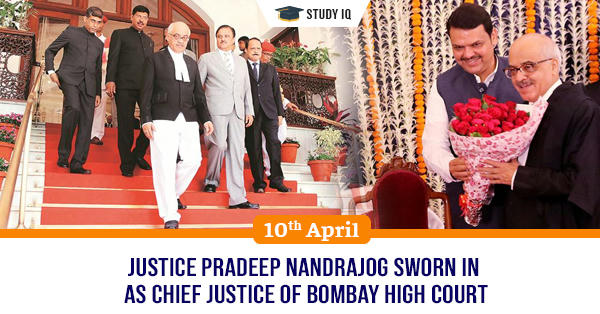 Justice Pradeep Nandrajog sworn in as Chief Justice of Bombay High Court
Date: 10 April 2019
Tags: Appointments & Resignations
Justice Pradeep Nandrajog (61) was sworn in as new Chief Justice of the Bombay High Court. He was administered the oath by Maharashtra Governor C Vidyasagar Rao at Raj Bhavan in state capital Mumbai. He succeeds Justice Naresh Patil who retired recently from the office. Prior to this appointment, he was serving as tChief Justice of Rajasthan High Court since March 2017, following his transfer from the Delhi High Court.
Justice Pradeep Nandrajog
He had started his judicial career after he was enrolled as advocate with Bar Council of Delhi in 1981. As a lawyer, he was specialised in arbitration, commercial, service and company matters and also land revenue, elections, etc. He served as counsel for Municipal Corporation of Delhi (MCD) for about six years. He was elevated as additional judge of Delhi High Court in December 2012. He was appointed Chief Justice of Rajasthan HC in April 2017.
High Courts in India
According to Article 214 of the constitution, each state of India shall have a High Court. The Chief Justice of a High Court is appointed by President with consultation of the Chief Justice of Supreme Court and Governor of the State. The other judges are appointed by will of President, Governor of state and Chief Justice of High Court.