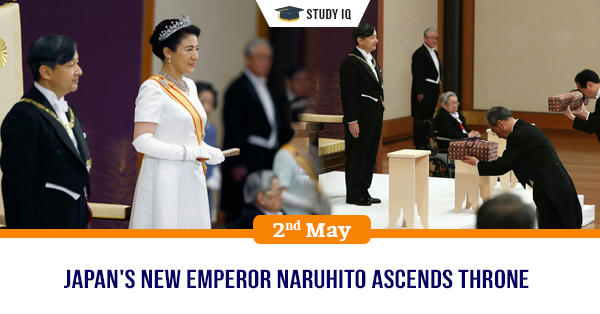 Japan's new Emperor Naruhito ascends throne
Date: 02 May 2019
Tags: Appointments & Resignations
Japan's new Emperor Naruhito (59) ascended Chrysanthemum Throne. With this, he becomes 126th emperor of Japan. It marks beginning of Reiwa era in Japan. He took throne after abdication of previous emperor and his father Akihito (85).
Emperor Akihito
He had abdicated due to declining health and unable to fulfil his role. He is first emperor of Japan in more than 200 years to abdicate the thrown. Stepping down of Emperor Akihito brings his era of "Heisei" to end. Akihito had taken the throne in 1989 and was first emperor in Japan's modern history whose era did not have a war.
Reiwa era
It took effect from May 1, 2019 with the accession of emperor Naruhito. The term "Reiwa" comes from "Manyoshu", an eighth-century (Nara period) anthology of Japanese poems (of waka poetry) dating back 1,200 years. It symbolizes Japan's profound public culture and long tradition. It is first time era name, or "gengo" in Japan whose name with characters is taken from Japanese classical literature instead of classic Chinese literature (breaking more that 1,300 years tradition). The English-language interpretation of Reiwa is "beautiful harmony".
Emperor of Japan
Emperor is the head of state but has no political powers. It is largely ceremonial role, and involves duties such as greeting foreign dignitaries and attending cultural and public events. He also has some constitutional duties, such as opening of parliament, but are based on cabinet decision. Moreover, emperor is constitutionally barred from making any political statement.
Japanese Monarchy is world's oldest hereditary monarchy dating back from the 5th century. It is also closely entwined with Shintoism, the traditional religion of Japan, which places huge emphasis on ritual. According to traditions, emperor is expected to perform those regular religious ceremonies.