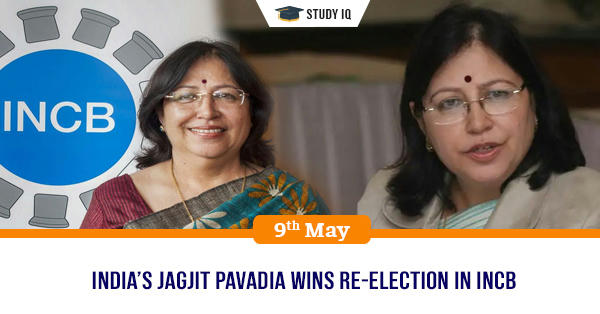 India's Jagjit Pavadia wins re-election in INCB
Date: 09 May 2019
Tags: Appointments & Resignations
India's Jagjit Pavadia (60) was re-elected for another term to International Narcotics Control Board (INCB). She was re-elected for five-year term beginning on March 2020 and expiring on March 2025. She was nominated by Government of India. She has been member of INCB since 2015 and her current term was set to come to an end in 2020.
Election Process
Pavadia won the election for seat of INCB in first round of voting with the highest number of votes at 44. The elections were held by secret ballot by 54-member United Nations Economic and Social Council (ECOSOC). It was held for 5 seats and total of 15 candidates were competing. There were 54 members present and voting and required majority of 28 to win seat in this election.
International Narcotics Control Board
It is the independent and quasi-judicial control organ for the implementation of the United Nations drug conventions. It was established in 1961.

Mandate:

It monitors enforcement of restrictions on narcotics and psychotropics and in deciding which precursors should be regulated.

It also monitors Government's control over chemicals used in illicit manufacture of drugs and assists them in preventing diversion of those chemicals into illicit traffic

Members:

It consists of 13 members who are elected by UN Economic and Social Council (ECOSOC). The members serve in their personal capacity and not as government representatives.

10 members are elected from list of persons nominated by member nations of United Nations and by parties that are not its members.

The remaining 3 members are elected from list of at least five persons (nominated by World Health Organization) with medical, pharmacological or pharmaceutical experience.