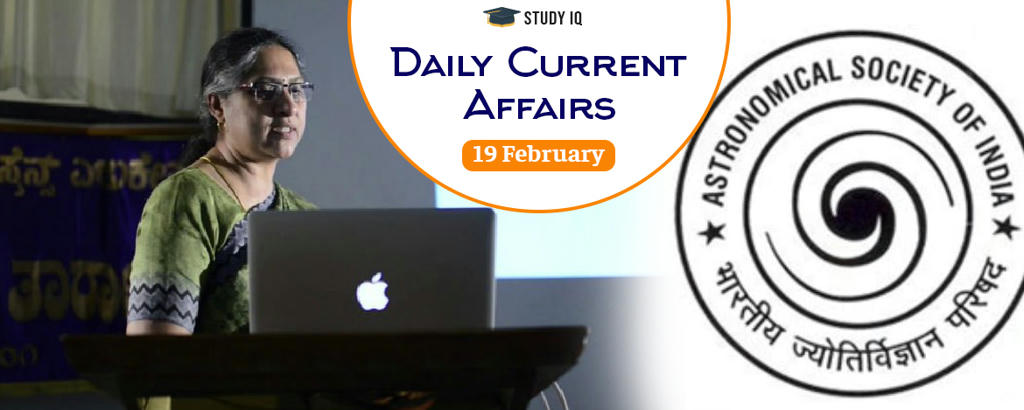 Dr G C Anupama elected as first woman President of Astronomical Society of India
Date: 19 February 2019
Tags: Appointments & Resignations
Dr G C Anupama was elected as first woman president of Astronomical Society of India (ASI), prime association of professional astronomers in the country. She will succeed R K Tyagi. She is second person from Karnataka after former ISRO Chairman Prof U R Rao to be president of ASI.
Dr G C Anupama
At present she is Senior Professor (Dean) at Indian Institute of Astrophysics (IIA), Bengaluru. She completed her PhD in 1991 from IIA and has been a faculty member at the institute since 1994.

She in-charge of Indian Astronomical Observatory at Hanle in Ladakh and studying initial physical conditions after supernova.

She is also studying 'transients', objects that brighten up for brief period of time before going dark in space

She is India group head of international team of scientists that is building 30-metre telescope at cost of over $1 billion in Hawaii, US.

She is recipient of Sir CV Raman Young Scientist Award in 2001 and is fellow of National Academy of Sciences.
Astronomical Society of India (ASI)
It is primer association of professional astronomers in the country. It has close to 1000 members.

It was established in 1972. Its registered office is at Astronomy Department, Osmania University, Hyderabad, Telangana. Renowned astronomer Vainu Bappu was its founder President.

Its objectives are promoting astronomy and related branches of science in India. It organizes scientific meetings and supports the popularization of astronomy and other similar activities.

It publishes Bulletin of the Astronomical Society of India.

Every two year it awards Prof. M. K. Vainu Bappu Gold Medal to honour young scientists from around the world for their exceptional contributions to astronomy and astrophysics.